Booths Fulwood Now Open
Click here for directions to Booths Fulwood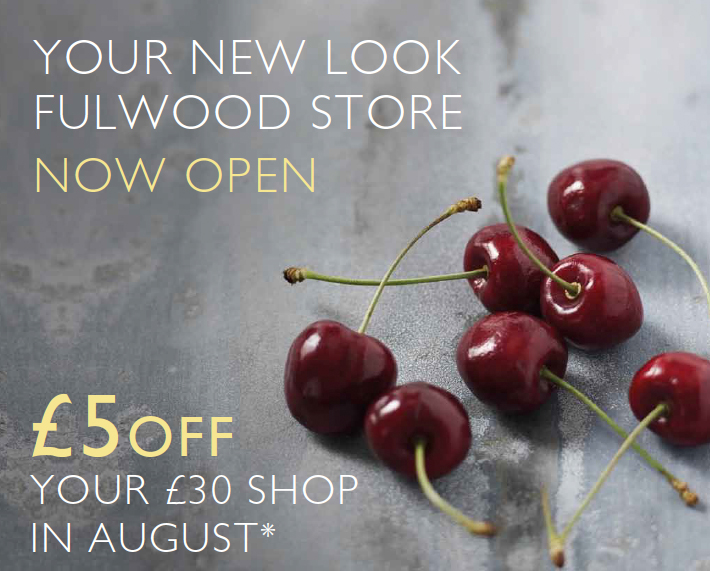 Booths Fulwood has undergone major redevelopment this summer, improving the appearance of this popular store.
This has seen the development of a new Booths' café, the introduction of a new license department, as well as improved layout of the store making it bigger and easier to navigate. This allows for a larger lunchtime offering and greater selection of magazines and newspapers.
The revamp also involves rolling out Booths' new branding across the store, including new signage, graphics and point of sale materials, which will reflect the brand image – a heritage of quality and a supermarket with a commitment to our community.
Booths' commitment to champion, support and celebrate local produce will be visible in store through photography of suppliers and producers, highlighting close supplier relationships. Elegant typography and handwritten messages will make the store environment unique, whilst maintaining some elements of a traditional supermarket, such as clear signage for convenience.
Chairman Edwin Booth says, "Central to our brand is the Booths' aim of selling the best quality produce in attractive shops staffed with first class assistants and to promote a pleasurable shopping experience for our customers. We're investing significant capital to bring all our stores up to date with the look and also to ensure our stores are working to our sustainability agenda and updated with new and energy efficient counters."
"The new look will celebrate our producers, give customers more information on projects and signpost seasonal produce."
The Fulwood store is now Open. 
T&C *Customers who spend £30 at Booths Fulwood in July will receive a £5 voucher to redeem in August when they spend £30 or more in store.