Lancashire Cheese & Chutney Toastie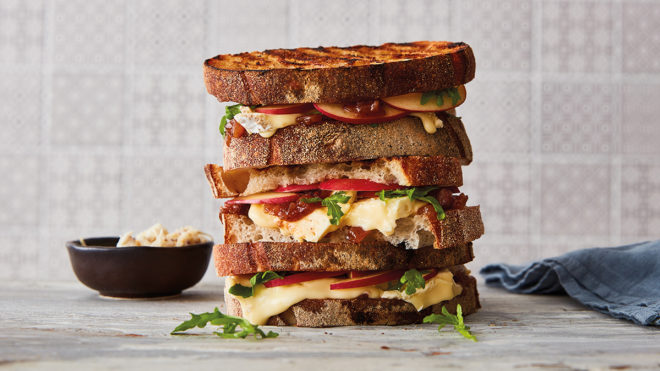 1 servings
5 mins to prepare
Ingredients
For the toastie
5g butter, softened
2 slices sourdough
2 tbsp caramelised onion chutney
60g (3 slices) Garstang White cheese
1/2 red apple, sliced
A handful of rocket leaves
for the celeriac remoulade
1/2 a celeriac, peeled and grated
2 tbsp mayonnaise
2 tsp wholegrain mustard
Salt and pepper
Instructions
Whether it's for brunch, a light lunch or simply a snack – the toastie is the ultimate grub for when you're feeling peckish and this Lancashire cheese and chutney toastie with slices of seasonal red apple will not disappoint.
METHOD
To make the toastie, lightly butter one side of each slice of bread. Spread one tablespoon of chutney on the other side of each slice of bread.
Layer the cheese, apple and rocket leaves between the slices of bread ensuring the buttered slices are on the outside.
Pre-heat a griddle pan over a high heat, griddle the toastie on each side for 1-2 minutes, then slice in half,
The make the celeriac remoulade, place all of the ingredients into a bowl, mix well to combine and season to taste. Serve a dollop of remoulade alongside the warm toastie.