Best of Booths
Discover our NEW treats
We're very proud of our range of Booths own products. Each range is sourced with care; they're often created from scratch and they're always hand selected, tasted and tested by our in house team of experts. Where possible we work with suppliers from the Northern counties we call home: Lancashire, Cheshire, Cumbria and Yorkshire, affectionately known by us as Booths Country, and with authentic regional suppliers.
We even make some products ourselves here at Preston HQ, including much of our meat range, from fresh butchery ranges like our sausages, to our prepared ready to cook products such as our chicken kievs.
Explore a selection of our current favourites and new additions below. Please be aware that some products will not be available in all stores, so we'd recommend checking before you travel. Just tap the 'find my nearest store' button at the bottom to view contact details of your chosen store.
| | | |
| --- | --- | --- |
| 10 Assorted Truffles | £6 | Vegetarian |
| 12 Cocoa Dusted Truffles | £6 | Vegetarian |
| Salted Almond Milk Chocolate Bar | £2 | Vegetarian |
| Mint 60% Dark Chocolate Bar | £2 | Vegetarian |
| Berry Burst 60% Dark Chocolate Bar | £2 | Vegan |
| Spiced Ginger Milk Chocolate Bar | £2 | Vegetarian |
| Coffee 60% Dark Chocolate Bar | £2 | Vegan |
| Sweet Fig in Port Milk Chocolate Bar | £2 | Vegetarian |
The Beef & Yorkshire Golden Ale Pie
A proper Northern pie made with hot water pastry crust and filled with British beef, award winning Yorkshire light golden ale and beef gravy, all topped with a flaky pastry lid. Handmade for Booths in Yorkshire
£3
The Lancashire Cheese & Potato Pie 
A proper Northern pie made with a short crust pastry and filled with crumbled Lancashire cheese, Maris Piper potatoes and cream, all topped with a flaky pastry lid. Handmade for Booths in Yorkshire.
£3
The Chicken, Ham & Leek Pie
A proper Northern pie made with a hot water pastry crust and filled with British chicken, British ham, leeks, double cream, herbs and spices, all topped with a flaky pastry lid. Handmade for Booths in Yorkshire
£3
Steak Slice
British beef in a rich gravy encased in flaky pastry. Made in Lancashire for Booths
£1.20 (single pack)
£2 (twin pack)
Cheese & Onion Slice
Mature Cheddar and Red Leicester cheese, onions and mashed potato encased in flaky puff pastry. Made in Lancashire for Booths
£1.20 (single pack)
£2 (twin pack)
Chicken & Mushroom Slice
British chicken breast and mushrooms with creamy white sauce encased in flaky puff pastry. Made in Lancashire for Booths
£1.20
Cheesy Bean Slice
Mature Cheddar cheese and baked beans encased in flaky pastry. Made in Lancashire for Booths.
£1.20
NEW RECIPE FOR OUR CHEESECAKES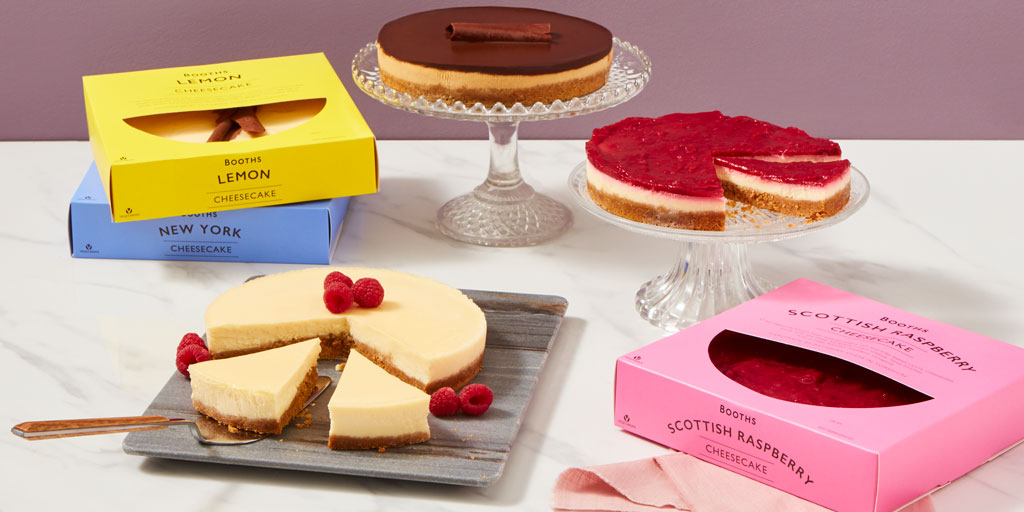 Lemon Cheesecake
Crisp digestive biscuit base, topped with a  rich and silky baked vanilla cheesecake, made with the finest Yorkshire cream cheese, finished with lashings of tangy lemon curd and hand decorated with a Belgian chocolate shard
Vegetarian
£4
Made by patisserie chefs in Yorkshire
Scottish Raspberry Cheesecake
Crisp digestive biscuit base, topped with a  rich and silky baked vanilla cheesecake, made with the finest Yorkshire cream cheese, hand finished with a zingy Scottish raspberry compote
Vegetarian
£4
Made by patisserie chefs in Yorkshire
New York Cheesecake
Crisp digestive biscuit base, topped with a  rich and silky baked vanilla cheesecake, made with the finest Yorkshire cream cheese and hand glazed
Vegetarian
£4
Made by patisserie chefs in Yorkshire
Millionaire's Cheesecake
Crisp digestive biscuit base, topped with a  rich and silky baked caramel cheesecake, made with the finest Yorkshire cream cheese, finished with a drenching of smooth Belgian chocolate ganache and hand decorated with a Belgian chocolate shard
Vegetarian
£4
Made by patisserie chefs in Yorkshire