2 for £7 or 4 for £12 on Selected Fresh Meat and Fish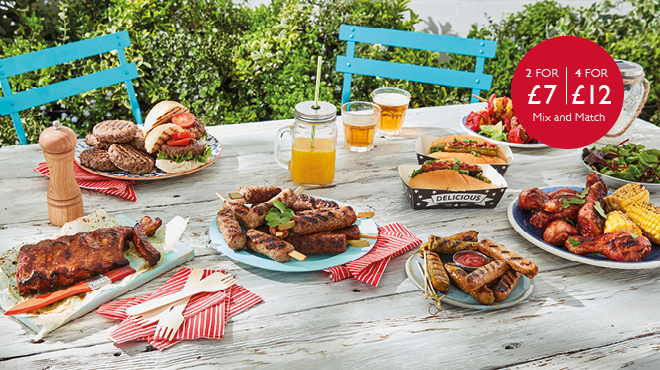 There's always great value for tea tonight across selected products in our fresh meat and fish range from the fridges, whether you're looking to cook or you'd like something easy to pop straight into the oven. We're proud to say that all of our Booths fresh meat is 100% British too.
Find the selection in the meat and fish aisle in stores.
We regularly update our selection in the offer, at the moment you can mix and match from:
Meat:
Diced Beef Steak (400g)
Lean Beef Steak Mince (400g)
Beef & Pork Meatballs (25 Pack)*
Cumberland Thick Pork sausage (750g)*
Medium Whole Chicken (1.45kg)
Boneless Pork Loin Steaks (4 Pack)*
Chicken Fillets 3 Pack (485g)
Lamb & Mint Burgers (4 Pack)
BBQ Rack of Pork Loin Ribs (400g)*
Chinese Pork Belly Ribs (400g)*
Minted Lamb Breast (400g)*
Pork & Apple Burgers (4 Pack)*
Quick Cook Beef Steak Burgers (6 Pack)
Lamb & Chilli Koftas (360g)*
Beef Quarter Pounder Burger (4 Pack)
Aberdeen Angus Beef Steak Burgers (4 Pack)
Beef and Caramelised Onion Burgers (4 Pack)
Beef & Sweet Chilli Koftas (360g)*
Beef & Black Pepper Burgers (4 Pack)
Beef Rump Steak Burgers (2 Pack)
Chinese Chicken Drumsticks (10 Pack)*
Lamb, Garlic & Herb Koftas (360g)*
Piri Piri Chicken Drumsticks (10 Pack)*
Duck Legs (440g)*
British Unsmoked Back Bacon (450g)*
Fish:
Farmed Sea Bass Fillets (165)
Scottish Salmon Fillet Portion (200g)
Lightly Dusted Plaice Fillet (275g)
Lightly Dusted Haddock (260g) – this product is not available in our Chorley, MediaCity, Penrith, Longridge, Hesketh Bank or Barrowford stores.
Click on the recipe titles to view them
Persian Spatchcock Chicken
Indian Spiced Chicken
Chicken Paella
Salmon Burgers
Teriyaki Salmon
Gourmet Beef Burgers
*These products are not available at our MediaCityUK store.
To find your nearest Booths store, please click on the button below: