Air Fryer Pork with Honey and Mustard Bake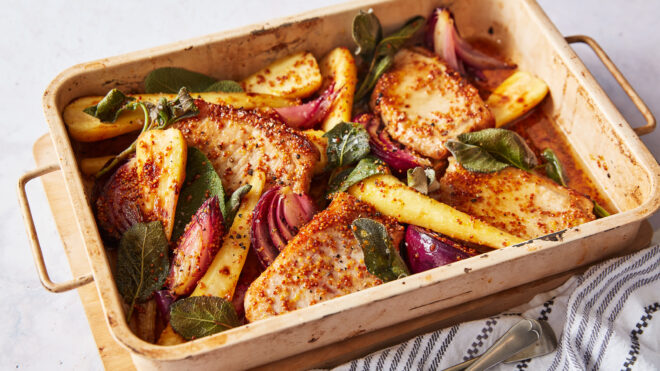 4 servings
15 minutes (plus 30 minutes to marinate) to prepare
Ingredients
1 pack pork loin steaks
For the marinade:
2 garlic cloves, crushed
1tbsp cider vinegar
1/2tsp dried sage
1tbsp grain mustard
1tbsp honey
1tbsp vegetable oil
1 red onion, cut into wedges
1 pack honey and mustard parsnips
Salt and pepper, to taste
Instructions
Method:
Season the pork loin steaks with salt and pepper and marinate in the garlic, cider vinegar, sage, mustard and honey for 30 minutes.
Cook in the air fryer at 180°C with the wedges of red onion and parsnips, stirring occasionally until nice and brown.
Chefs Tip
Try this recipe with Booths Cumberland sausages instead of pork loin steaks and serve with some creamy mashed potatoes.