Jungle Curry with Rice Noodles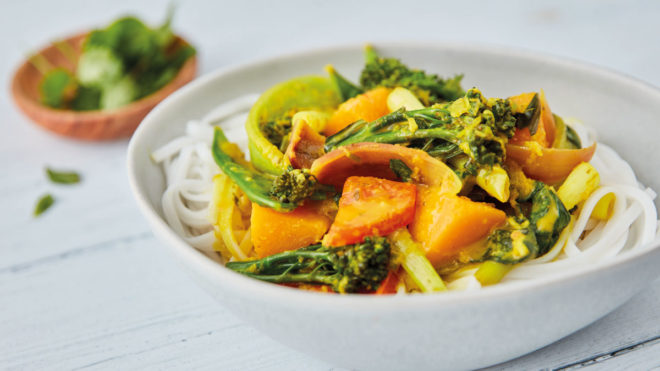 4 servings
30 mins to prepare
Ingredients
1 pack of rice noodles
50ml coconut oil
1 pack of mangetout
1 red onion
1 red pepper
1/4 butternut squash
1/2 pack of Tenderstem broccoli
1 pack of pak choi
4 spring onions, halved
400ml coconut milk
Handful of mint
Handful of coriander
Handful of basil
1 lime, juice
1 tsp sugar
1 tsp salt
4 tbsp curry paste
For the curry paste
Handful of corinader
2 tbsp turmeric
1 tbsp lemon grass purée
2 jalapeños
3 garlic cloves
2 ginger (thumb sized)
1 lime, juice and zest
4 tbsp water
Instructions
METHOD:
1 Blitz all the curry ingredients in a blender until smooth.
Prepare all the vegetables into even sized small chunks.
Fry the red onion, red pepper, baby pak choi and butternut squash in the coconut oil for 2 minutes.
Add the curry paste and continue to fry, always stirring so it doesn't catch.
Add the coconut milk, tenderstem broccoli and spring onions and simmer until the vegetables are fully tender.
Then add the mangetout and stir well.
Taste the curry and add more paste if you think it needs more spice, in which case cook it for a few more minutes.
Cook the rice noodles as per the pack instructions.
Roughly chop the mint, basil and coriander. Then mix with the sugar, salt and lime juice. Add this to the curry.
Serve the curry with the rice noodles.
CHEF'S TIP This recipe is also great with chicken, pork or beef. Cook separately and add into the curry at step 7. Always make sure your protein is cooked through.