Sweet and Sour Haslet Balls with Edamame Stir Fry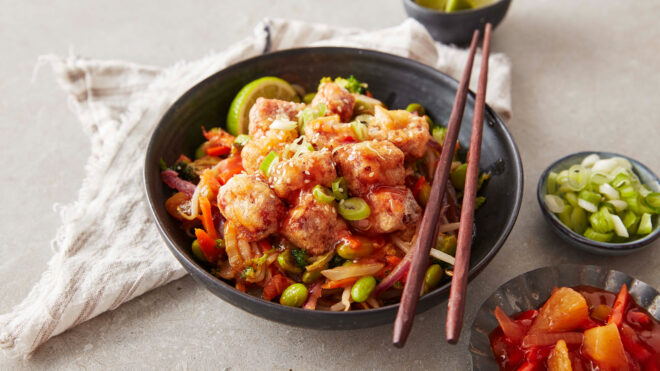 4 servings
30 minutes to prepare
Ingredients
150g pack Yutaka tempura batter mix
220ml cold sparkling water
400g piece of Haslet (Ask your Booths counter experts to keep in 1 whole piece)
25ml vegetable oil
1tbsp plain flour
300g pack Booths edamame bean stir fry
2 cloves crushed garlic
1tbsp pureed fresh ginger
200g sweet and sour sauce
1tsp sesame seeds, to garnish
Salt and pepper to taste
Instructions
Method:
1. Make the tempura batter mix, carefully following the pack instructions then add the sparkling water and whisk.
2. Dice the haslet into bite sized chunks and toss in a little flour.
3. Dunk each piece in the batter and shallow fry in vegetable oil for 2 minutes until crisp and brown and keep warm.
4. Quickly stir fry the edamame stir fry mix, garlic and ginger and then add the sweet and sour sauce to this.
5. Serve this with the tempura Haslet balls and garnish with sesame seeds.
Chef's Tip
If you want to make your own quick and easy sweet and sour sauce, just boil together 100g sugar, 100g cider vinegar, 100g tomato ketchup with 1 small tin chopped pineapple. Very simple and delicious!