Bonfire Parkin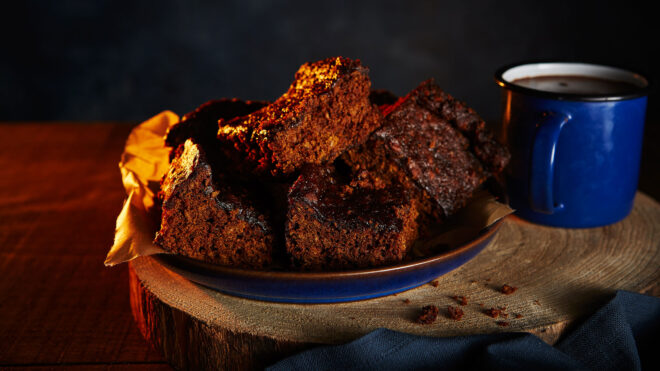 6 servings
1 hour 30 minutes to prepare
Ingredients
150g butter
150g black treacle
300g golden syrup
150g dark brown muscovado sugar
4 balls stem ginger, finely chopped
2 tbsp syrup from the jar
300g self raising flour
1/2 tsp mixed spice
1 1/2 tsp bicarbonate of soda
100g rolled oats
2 medium eggs, beaten
Instructions
1 Pre-heat the oven to 130°C / fan 150°C / gas mark 2. Grease and line a 20cm x 30cm cake tin with baking parchment. Heat the butter in a saucepan and add the black treacle, golden syrup, stem ginger, syrup and sugar. Heat gently until it has all melted together. Remove from the heat and cool slightly.
2 Sieve the flour with the ginger, mixed spice and bicarbonate of soda into a bowl and stir in the rolled oats. Make a well in the centre and pour over the syrup mixture and stir in well .
3 Add the eggs and stir until it is a thick, batter like consistency.
4 Pour into the prepared tin and cook for 1 – 1¼ hours until just firm to touch. Leave to cool in the tin before turning out to cool completely.
5 Cut into pieces and serve with a hot mulled apple drink.
Chef's Tip
Make your Parkin up to two weeks ahead of time, as it will become softer and stickier.