Sticky Autumn Spice Loaf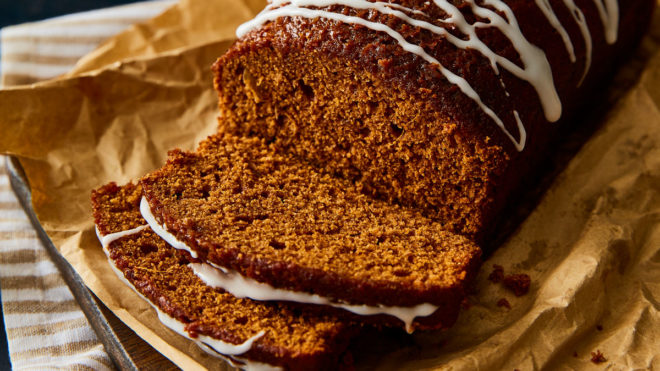 8 servings
55 minutes to prepare
Ingredients
200g plain flour
125ml whole milk
85g treacle
85g golden syrup
85g dark muscavado sugar
85g unsalted butter
60g stem ginger, chopped
1 large egg
2tbsp autumn spice mix
1tsp bicarbonate soda
Pinch salt
3tbsp syrup from the jar of stem ginger
Instructions
This delicious sticky loaf cake is perfect made with our Autumn Spice Mix, tap here for the blend.
Method:
Preheat the oven to 160C/140C (fan)/gas mark 3. Grease and line a 1lb loaf tin in preparation.
Sift together the flour, spice mix (if you don't want to make a big batch of autumn spice blend, simply use 2tsp ground cinnamon, 1tsp ground ginger, 1/2tsp ground clove and 1/4tsp ground nutmeg) and salt. Add the chopped stem ginger.
Pour the milk into a jug and stir in the bicarbonate of soda.
Combine the treacle, golden syrup, sugar and butter in a saucepan, gently heating until the sugar and butter have melted.
Add the treacle mixture and milk to the dry ingredients. Add the egg and stir until well combined. Transfer the batter to the loaf tin and bake in the oven for 45 minutes.
Brush the stem ginger syrup over the top of the cake and leave to cool on a wire rack. Enjoy with a hot cup of tea.
Chefs tip: Try layering slices of cake with lemon custard for a delicious autumn trifle.