Sticky Orange & Ginger Stir Fry Duck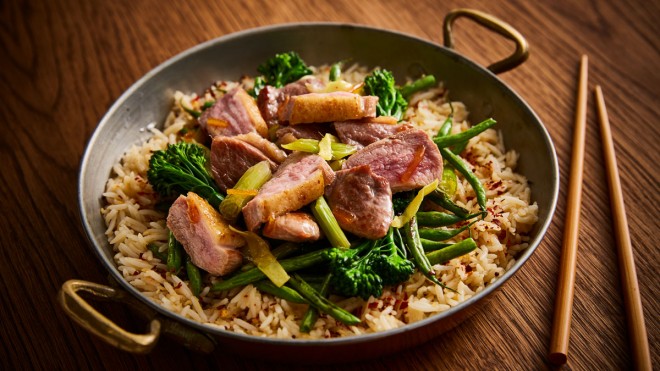 2 servings
10 minutes to cook, 10 minutes to prepare
Ingredients
2 duck breasts
60g ginger cut into fine strips or 1tsp ground ginger
170g orange marmalade
1tbsp fish sauce
6 spring onions cut into 4cm lengths
To Serve
Cooked green vegetables of your choice
Rice or noodles
Instructions
A simple stir fry that really celebrates the flavour of the duck breast, perfect for a quick and easy mid week meal.
Gently pat dry the duck breasts and score the fat side slightly.
Place the duck breasts skin side down in a large, cold, non-stick frying pan without oil and fry on a medium heat until brown (about 6 minutes or so) then turn and cook for 4 minutes. You can remove any excessive amounts of fat from the pan that render out. Seal on the sides then remove and cut into slices, checking that the duck is cooked but just pink in the middle.
Fry the spring onions and ginger in the pan until browned and softened.
Add the marmalade and fish sauce cook for 2 minutes.
Add the duck back into the pan and cook for a further 2 minutes until everything is coated with the mixture.
Serve over green vegetables of your choice and rice or noodles.
Chefs Tip
For an extra ginger punch replace the orange marmalade with ginger marmalade.