Slow Cooker Mongolian Chicken Stew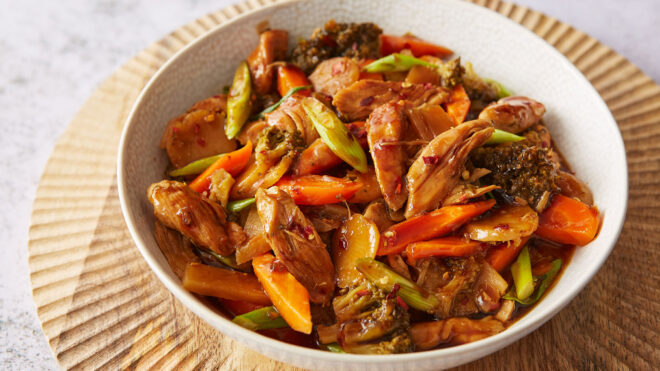 4 servings
10 minutes to prepare
Ingredients
750g chicken thigh, skinless and boneless
4 tbsp soy sauce
2 tbsp water
4 tbsp brown sugar
6 tbsp hoisin sauce
1 tsp ground ginger
1 tsp garlic, crushed
1/2 tsp red chilli flakes
250ml chicken stock
2 carrots, sliced
6-8 broccoli florets
3 spring onions, sliced
2 tbsp corn starch
Instructions
Method:
Place the chicken in the bottom of the slow cooker.
In a medium bowl, whisk together the soy sauce, water, brown sugar, hoisin sauce, ginger, garlic and chilli flakes to create the sauce.
Pour the sauce mixture on top of the chicken along with the chicken stock, broccoli, carrots and spring onions. Cook for 2-3 hours on low.
Remove the chicken from the liquid and place on a plate or cutting board. Allow the chicken to rest for a couple of minutes and then shred with two forks or slice it with a knife.
Transfer the liquid from the slow cooker to a small saucepan.
Whisk 2 tablespoons of water with 1 tablespoon of corn starch. Slowly add the corn starch mixture to the sauce.
Cook on high until bubbly and thickened, whisking constantly. Pour the sauce back in to the slow cooker along with the shredded chicken and toss to coat.
Serve immediately with sesame seeds for garnish, if desired.