Smoked Haddock with Lancashire Cheese Rarebit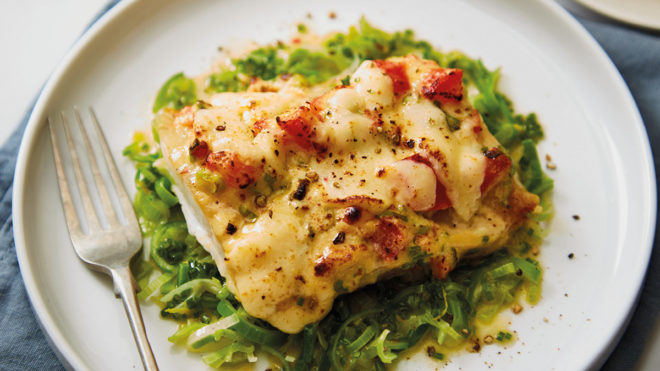 4 servings
45 mins to prepare
Ingredients
4 x 150g smoked haddock pieces
100g Lancashire cheese
1 egg, beaten
2 spring onions, sliced
1 tomato, diced
1 tsp English mustard
1/4 tsp Tabasco
1 tsp Worcestershire sauce
100g leeks, thinly sliced
20g butter
200g new potatoes
Instructions
METHOD
1 Pre heat the oven to 200°C / 180°C Fan / Gas Mark 6.
2 To make the Lancashire rarebit, grate the cheese, then add the spring onion and tomato into the bowl.
3 Add in the egg, mustard, Tabasco and Worcestershire sauce and mix well.
4 Place your smoked haddock onto a slightly oiled tray and top each piece of fish with a generous mound of Lancashire rarebit. Bake in the oven for 8 minutes.
5 Melt the butter in a sauce pan, add the leeks and season with salt to taste.
6 Boil the new potatoes in lightly salted water for 15 minutes.
7 Serve the fish on a mound of buttered leeks and serve with the new potatoes.
CHEF'S TIP This Lancashire rarebit tastes great on toast or folded through some eggs to make an omelette.