Rhubarb and Lemon Curd Pots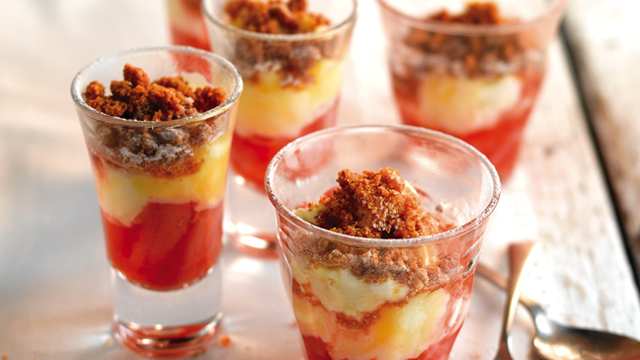 4 servings
35 minutes to prepare
Ingredients
400g rhubarb, cut into 4cm pieces
20g butter
Zest and juice of 1 orange
75g caster sugar
3tbsp of lemon curd
250g tub of mascarpone cheese
2tsp icing sugar
4 stem ginger biscuits, crushed
Icing sugar for dusting
Instructions
Pre-heat the oven to 220°c/gas 7.
Place the rhubarb into an ovenproof dish and dot with the butter. Add the orange juice, zest and sugar. Loosely cover with foil and cook for 10 minutes until just tender then leave to cool. Remove the rhubarb from the juice.
Place the juices into a small pan and bring to the boil. Cook for 1 minute and cool.
Divide the rhubarb between 4 glasses and drizzle over a little of the syrup. In a bowl, mix the mascarpone with the icing sugar. Then with a knife, fold in the lemon curd forming a ripple effect.
Spoon this between your glasses. Finally, top with the crushed biscuits and dust with the icing sugar then serve.