Sticky Coffee Pudding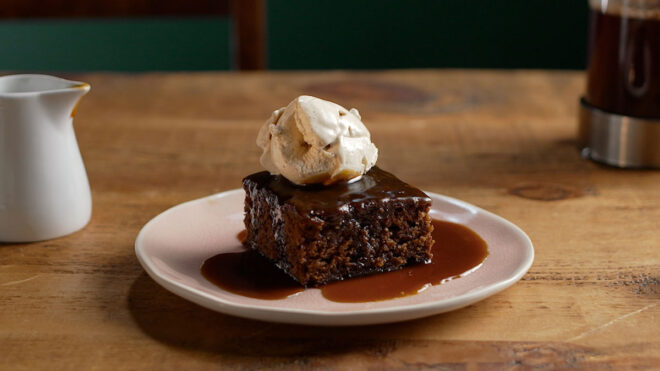 8 servings
1 hour to prepare
Ingredients
Cinnamon Whipped Cream:
300ml double cream
1/2 tsp ground cinnamon
Toffee Coffee Cake:
30g Booths Italian Roast and Ground Coffee
200g dates, roughly chopped
1 tsp bicarbonate of soda
100g butter, room temperature
2 tbsp/50g black treacle
50g light muscovado sugar
2 medium eggs, room temperature
150g plain flour
2 tsp baking powder
Pinch of salt
Instructions
Method:
Stir the cinnamon into the cream and set aside in the fridge to infuse until ready to serve.
Butter a 20cm x 30cm rectangle or similarly sized ceramic baking dish and and line the bottom with baking paper.
Boil 300ml water in a small saucepan, then turn off the heat. Add the ground coffee, stir to combine and leave to brew for 4 minutes. Stir the coffee again and strain through a fine-meshed sieve into a heatproof jug, measuring 200ml coffee; discard any excess.
Add the chopped dates and bicarbonate of soda, stir and set aside while you prepare the rest of the cake. Preheat the oven to gas 4, 180°C, fan 160°
Cream the butter, black treacle and sugar until smooth, scrape down and beat again until creamy. Add the eggs, one at a time, beating until incorporated, scraping down between each addition.
Pulse the dates and coffee in a food processor until chunky or mash in the jug with a fork, then gently incorporate into the mixture.
Whisk together the flour, baking powder and salt in a separate medium bowl, then gently incorporate into the batter in three stages (do not overmix). Scrape into the baking dish, smooth the top and bake for 30 minutes, until risen and firm and a toothpick inserted in the centre comes out clean.
While the cake is baking, make the sauce. Melt the butter, sugar and treacle over very low heat in a medium saucepan, gently stirring until the sugar has melted into the butter. Stir in the cream, increase the heat to medium and cook until bubbling, stirring frequently. Remove from the heat and season with a pinch of salt.
When the cake is ready, prick it all over with a toothpick and pour over 1/3 of the sauce, spreading it right to the edges. Cover the sauce and set aside; rewarm when ready to serve.
Leave the cake to rest for 20-30 minutes. Meanwhile, whip the cinnamon cream and rewarm the sauce if it has cooled. Serve with more sauce to pour over and whipped cinnamon cream.