Pineapple Upside Down Cake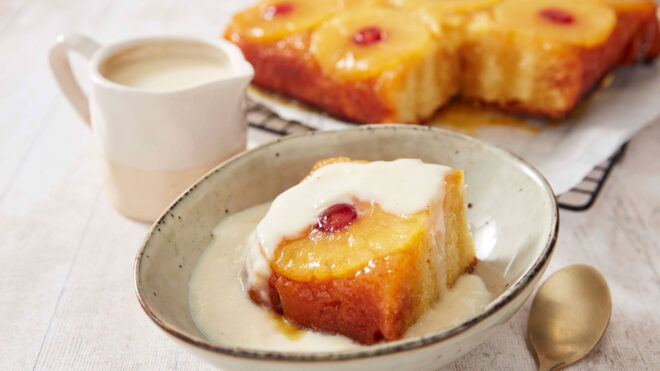 9 servings
10 minutes to prepare
Ingredients
175g golden syrup
325g butter, softened
12 pineapple rings
275g caster sugar
5 free-range eggs
275g self raising flour
9 glacé cherries
Instructions
Method
Preheat the oven to 180°C/160°C Fan/350°F/Gas Mark 4.
Line the sides and bottom of a 26cm/10inch cake tin with greaseproof paper, making sure there is no gap for the syrup to leak through. Place onto a shallow baking tray.
Heat the golden syrup and 50g of butter in a small saucepan over a low heat until melted and pour into the bottom of the cake tin.
Place the pineapple rings on top, we did 3 rows of 3 and put a cherry in the centre of each ring. Finely chop the remaining pineapple and set aside.
Beat the sugar and the remaining butter together in a bowl until light and fluffy.
Add the eggs, one at a time, beating well between each egg. Fold in the flour, then, stir in the chopped pineapple until well combined.
Spoon the cake mixture over the pineapple rings in the tin and tap to settle the mixture.
Bake in the oven for 45-60 minutes, until golden-brown on top and a skewer inserted into the middle comes out clean.
Remove the cake from the oven and set aside to cool in the tin for 10 minutes. Invert the cake onto a large plate and peel off the greaseproof paper. Serve with custard or ice cream.
Chefs tip
You can layer the pineapple and cherries in any way, you don't have to keep the rings whole.