Gunpowder Roast Potatoes & Cucumber Salad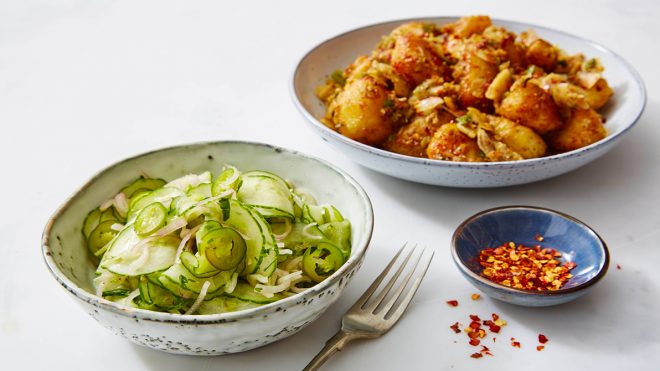 4 servings
10 mins to prepare
Ingredients
For the Gunpowder Potatoes
1 tsp chilli
1 tsp curry leaves
1 tsp sesame seeds
1/2 tsp cinnamon
1/2 tsp black pepper
1/2 tsp salt
3 cardamom pods
1/2 tsp cumin
1/2 tsp coriander seeds
50g ghee or butter
500g cooked, cold roast potatoes
1 clove of garlic, minced
1 tbsp coriander, chopped
1 bunch of spring onions
For the Cucumber Salad
1 shallot, sliced thinly or 1/2 small red onion
1 green chilli, sliced thinly
1/2 cucumber, sliced thinly
1/2 tsp salt
1 lime, juiced
1 tsp fresh coriander, chopped
Instructions
METHOD
FOR THE GUNPOWDER POTATOES
1 Mix all the spices together and give them a bash in a pestle and mortar.
2 Heat a frying pan on a medium to high heat. Once hot, add in the butter and half the spices (keep the remaining spice mix for another day).
3 Add the cooked roast potatoes and toss in the spices and butter.
4 Stir in the minced garlic and ginger and remove from the heat.
5 Add the chopped coriander and sliced spring onions and serve.
FOR THE CUCUMBER  SALAD
1 Place the sliced shallot or red onion, green chilli and cucumber in a bowl with the lime juice and salt.
2 Mix well and leave to sit for 5 minutes, stirring every minute.
3 Add the chopped coriander and serve.
CHEF'S TIP: For the gunpowder roast potatoes swap out the normal potatoes for sweet potato or pumpkin when in season.The cucumber salad recipe works for lots of different vegetables – it's great with tomato, melon, watermelon, courgette, red onions and even halved green grapes. Its cooling properties and freshness are great against a curry.