Rafi's South Indian Tomato Rice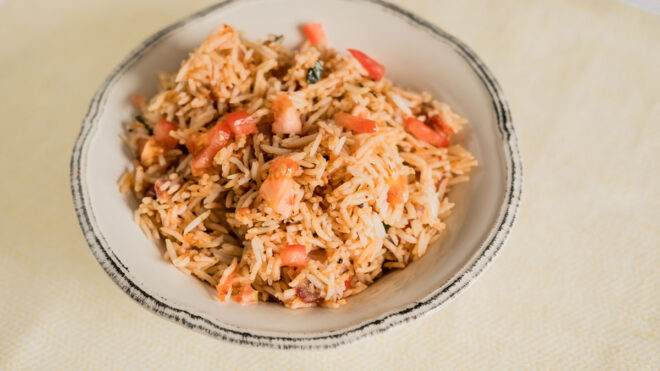 5 servings
15 minutes to prepare
Ingredients
300g Basmati rice
1tsp Chana dhal (lentils)
1tsp Coriander seeds
1 Dry red chilli, broken into pieces
2tbsp Vegetable oil
6-8 Curry leaves, finely sliced
1/2 tsp Mustard seeds
1/4 Asafoetida
1 Onion, diced
4 Tomatoes, diced
Salt, to taste
Instructions
This spiced, flavourful rice is the perfect accompaniment to a fish dish, or can be served on its own for a light lunch with some yoghurt or raita.
Method:
Cook the rice as per your favourite method, we recommend checking out our top tips for cooking rice.
In a dry pan, toast the coriander seeds, chana dhal and dry red chilli for 1-2minutes until golden. Remove from the pan and leave to cool. Once cool, grind to a fine powder using either a pestle and mortar or a coffee grinder.
Heat the oil in a frying pan and fry the curry leaves, mustard seeds and asafoetida for 1-2 minutes.
Add the onion and fry for 5 minutes.
Add the tomatoes and fry for 10 minutes until they are soft and most of the liquid has evaporated.
Stir in the ground ingredients and take off the heat.
Mix in all of the cooked rice and season with salt to taste.
Top tip: This dish has a bit of heat from the dry chilli which can be omitted. For an earthy flavour, try adding 1 tsp of urid dhal (lentils) to the mix to be ground.
Serves 4 – 6 | Vegan | Gluten Free