The Boho Baker's Stuffed Crust BLT Tart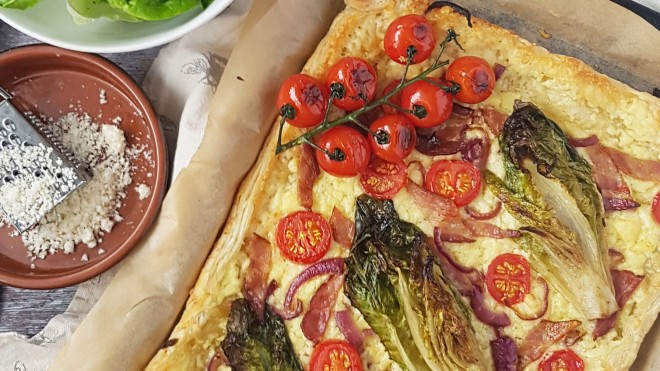 6 servings
20 minutes to cook, 10 minutes to prepare
Ingredients
1 sheet readymade puff pastry
250g grated cheddar cheese
1 red onion
1 little gem lettuce
1 punnet Piccolo tomatoes (cherry on the vine)
2 rashers smoked streaky bacon
1 small egg
Instructions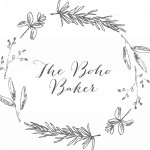 The Boho Baker describes herself as "Baker. Writer. Forager. Wanderer. Organic ingredient and edible floral Enthusiast. Member of the Guild of Food Writers." Very local to our HQ in Preston, she's kindly agreed to do a series of recipes for us, celebrating the best of our local produce. Follow her on instagram @thebohobaker.
A super simple recipe for a delicious brunch or supper dish, this tart draws upon the classic bacon, lettuce and tomato flavour combination for a meal that can be whipped up in only half an hour!
Method:
Preheat your oven to 200°C/400°f / Gas Mark 6. Place your pastry sheet on top of a baking tray that has been lined with greaseproof paper.
Whisk the egg and brush all four outer edges of the pastry sheet. Use 50g of the grated cheese to line the sides before taking the outer edges and rolling in on themselves to create a stuffed crust.
Finely chop the red onion and fry lightly until golden. Set aside and fry the bacon until cooked but not crispy (it will crisp up in the oven). Chop the bacon into 1cm wide strips using a knife or a clean pair of scissors.
Cut the Little Gem lettuce into quarters and brush each side with olive oil. Lightly fry until the edges of the lettuce start to brown.
Sprinkle the remaining cheese over the pastry sheet and add the lettuce, onion and bacon. Chop the tomatoes in thin slices and place on top of the cheese.
Brush the crust with some of the whisked egg and then bake in the oven for 20 minutes or until the edges are crisp and golden. This delicious tart can be enjoyed hot or cold and keeps for up to 3 days on a covered tray in the fridge.
Hints/Tips/Troubleshooting:
You can leave out the bacon for a quick and easy vegetarian dish.
Try substituting the puff pastry for a pizza base for a variation that the kids will love.