Gourmet Potato Salad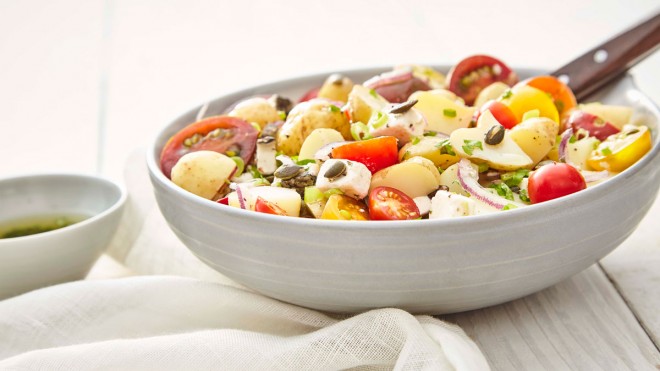 4 servings
30 minutes to prepare
Ingredients
400g new potatoes
1 red onion, finely sliced
3 spring onions, finely sliced
50g goats cheese, crumbled
200g mixed tomatoes, halved
25g pumpkin seeds, toasted
For the Dressing
25ml olive oil
2tsp white wine vinegar
Juice of 1/2 lemon
handful of chopped parsley
Salt & pepper taste
Instructions
Our take on a potato salad – a gorgeous mix of goats cheese, freshly boiled potatoes and the best of the summer's tomatoes.
Method:
Boil the new potatoes until just soft and drain and leave to cool.
When the potatoes are cool, cut into quarters and place into a bowl along with the red onion, spring onion, mixed tomatoes and cheese.
In a dry frying pan heat the pumpkin seeds until lightly toasted and sprinkle over the salad.
In a separate bowl, mix all of the dressing ingredients then drizzle over the salad.
Chef's Tip:
The pumpkin seeds will start to pop when they are toasted. Add a little honey to your dressing to sweeten things, or English mustard if you fancy a kick.