Hearty & Healthy – 5 Minute Sauce and Red Lentil Hummus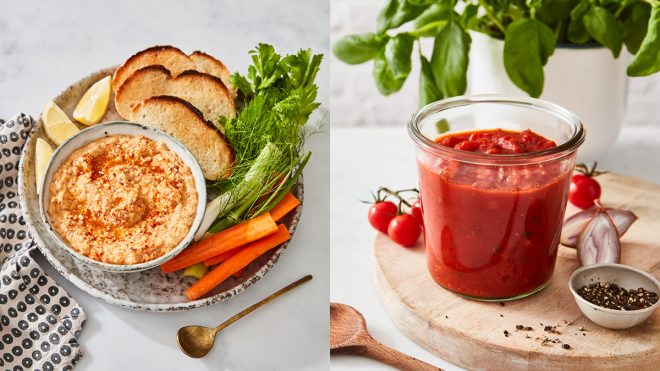 4 servings
10 mins to prepare
Ingredients
Tomato Sauce
1 tbsp olive oil
1 clove garlic
1 shallot
1/2 tbsp cider vinegar
1 tsp sugar
Pinch of chilli flakes
1 tin of chopped tomates
Small bunch of basil
Salt and pepper to taste
Red Lentil Hummus
200g red lentils
2 tbsp Tahini
1 lemon (juice and zest)
3 tbsp sunflower oil
1 clove garlic, crushed
1 tsp cumin
1/2 tsp coriander seeds, crushed
1/2 tsp smoked paprika
To season
Salt and pepper to taste
Pinch of cayenne pepper
Instructions
5 Minute Tomato Sauce
METHOD:
Thinly slice the shallot and garlic and gently fry in the oil for 1 minute.
Add the vinegar, sugar, chilli flakes and continue to cook for 30 seconds.
Turn up the heat and add the chopped tomatoes. Once it has come to the boil, remove from the heat and season with salt and pepper.
Add the Sauce and chopped basil to a blender and pulse until you've reached your desired consistency.
CHEF'S TIP Add 200ml of hot veg stock for a quick and easy tomato and basil soup.
Red Lentil Hummus
METHOD:
Cook the red lentils for 12 minutes in bloiling water. Drain and allow to cool.
Place the cooked lentils in a food processor and add the remaining ingredients.
Pulse until it is well mixed. If you like it smooth, pulse for a little longer. Add a small amount of water if you prefer a looser consistency.
To season add the salt, pepper and a pinch of cayenne.
Serve with lightly toasted bread and a selection of fresh vegetables.
CHEF'S TIP Swap out the sunflower oil for coconut oil, the Tahini for peanut butter and salt for soy sauce, for an Asian style satay dip.