Filo Fish Pies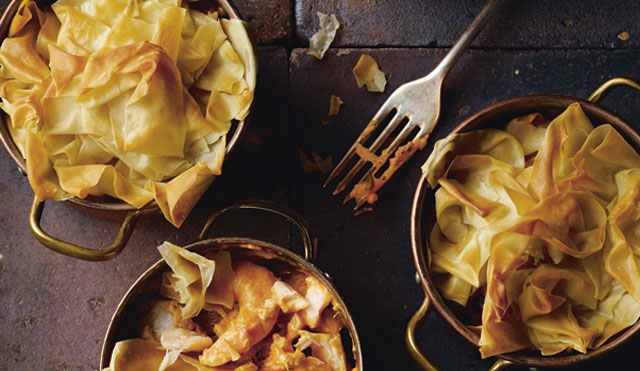 6 servings
40 minutes to cook, 25 minutes to prepare
Ingredients
75g butter
1 medium onion, finely chopped
1 fennel bulb, finely chopped
1 clove garlic, finely chopped
1tbsp tomato puree
200ml white wine
400g chopped tomatoes
150ml double cream
300g salmon fillet, skinned and cut into large pieces
250g any firm white fish, skinned and cut into large pieces
Large handful chopped fresh flat leaf parsley
2tbsp chopped fresh tarragon
200g large, raw prawns
6 sheets filo pastry each measuring 30cm x 25cm
Instructions
These flavoursome little pies are filled with a luxurious mixture of fennel, tomatoes, prawns, salmon and white fish with cream and herbs and topped with filo pastry. You can make the filling a day ahead and leave to cool, then store covered in the fridge. When ready to serve, simply top with the filo pastry and bake for 20 – 25 minutes.
1 Heat 25g of the butter in a large saucepan until melted. Add the onion and fennel and cook gently for about 10 minutes until soft and translucent. Stir in the garlic and cook for just a minute. Stir in the tomato purée and cook for a further minute then add the white wine and simmer for a few minutes until reduced by half.
2 Tip in the chopped tomatoes and then fill half the can with water and add this to the sauce. Simmer for 15 minutes until you have a thickened, rich sauce. Remove the sauce from the heat and stir in the cream, fish, herbs and prawns and season with a pinch of salt and milled black pepper. Spoon the mixture into a large 2 litre baking dish or 6 x 350ml ovenproof dishes. Set aside and leave to cool.
3 When ready to serve pre-heat the oven to 180ºC/fan 160ºC/gas mark 4. Melt the rest of the butter in a small saucepan. Unroll the filo pastry and brush 6 sheets of the pastry all over one side with the melted butter. Gently scrunch up the pastry and lay on the top of the pie filling, completely covering or for an individual pie lay one scrunched up sheet on top. Bake for 25 minutes in the middle of the oven until the pastry is golden and crisp and the filling is cooked and bubbling.