Blackberry Crumble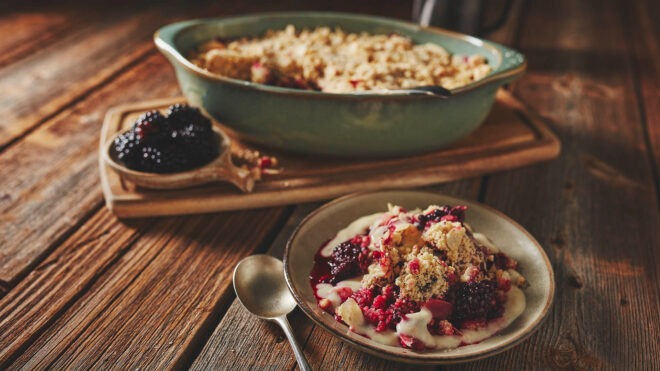 4 servings
30 minutes to prepare
Ingredients
500g blackberries
1 lemon, juice only
1tbsp golden caster sugar
For The Crumble:
125g salted butter
250g plain flour
65g golden caster sugar
1/4 tsp ground cinnamon
50g flaked almonds
Instructions
Method:
1. Pre heat the oven to 180°c/160°c Fan/356°F/Gas Mark 4.
2. Wash the blackberries and place in a suitable oven proof dish with the lemon juice and golden caster sugar.
3. To make the crumble, cut the cold butter into small cubes and rub into the plain flour to form a breadcrumb texture.
4. Mix in the sugar and cinnamon into the crumble then place onto a lined baking tray. Bake in the oven for 5 minutes, stir the mix and then bake for a further 5 minutes. The crumble should be light golden and almost fully cooked, then add the flaked almonds. Top the blackberries with the crumble mix.
5. Bake the crumble in the oven for 20-25 minutes until golden and the fruit starts to bub-ble.
6. Serve with vanilla custard.
Chef's Tip:
Keep the leftover crumble and fold it through vanilla ice cream for a great blackberry crumble ice cream.