Crispy Pork Belly with Roasted Rhubarb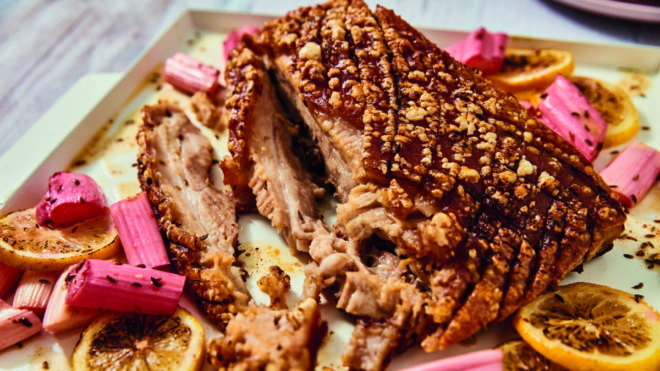 4 servings
2 hours 5 minutes to prepare
Ingredients
1kg belly pork
1 tsp olive oil
1 tbsp sea salt
1 tsp caraway seeds
400g rhubarb
1 lemon, sliced
Instructions
METHOD
Pre-heat the oven to 220°C (fan)/240°C/465°F/Gas Mark 9.
Place the belly pork in an oven proof dish and score the skin. Pat the skin with kitchen paper to remove any moisture.
Brush the pork skin with the olive oil, scatter with salt and caraway seeds and rub into the scored skin.
Roast in the pre-heated oven for 1 hour or until the skin is golden brown and crackled.
Slice the rhubarb into 1 inch long batons. Place the sliced rhubarb and the lemon slices around the base of the pork, turn the oven down to 150°C (fan)/170°C/325°F/Gas Mark 3 and roast for a further hour.
Remove and allow to rest before carving into slices and serve.
CHEF'S TIP
The key to getting a crispy crackling is to ensure the skin is dry of any moisture before oiling and salting. Remove from fridge 30 minutes before preparing and dry the skin twice to help remove any moisture.