Bites With A Beer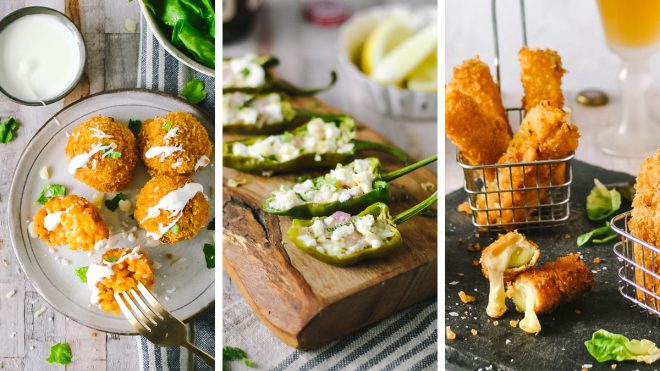 4 servings
10 - 15 mins to prepare
Ingredients
Parmesan & Rose Harissa Arancini
200g risotto rice
800ml ready made chicken or veg stock
1 onion, finely diced
1 garlic cloves, crushed
1 tbsp rose harissa
40g grated Parmesan
25g butter
100g panko breadcrumbs
Feta Stuffed Jalapeños
8 jalapeño peppers
50g feta cheese
1 shallot, finely diced
8 mint leaves
1 tbsp olive oil
1 small lemon, juice and zest
1 garlic clove, crushed
Crispy Katsu Bites
12 gherkins (long slices)
180g Gruyère cheese
50g flour
2 eggs
2 tbsp milk
75g panko breadcrumbs
For the dip
1 tbsp katsu sauce
1 tbsp sour cream
Instructions
Ever fancy a little bit of something tasty to go with a nice cold beer? We've created three delicious recipes that are quick and easy to make!
Parmesan & Rose Harissa Arancini
Serves 4 | Prep Time: 10 mins | Cooks: 20 mins
METHOD
1 Cook the onion ad garlic in the olive oil until soft.
2 Add the rice and coat in the onion mix.
3 Add the stock and bring to the boil. Simmer for 8 minutes, stir every minute so it doesn't stick to the pan.
4 Remove from the heat, add the Parmesan and butter and mix well until the butter has melted.
5 Add the rose harissa and season with salt and pepper.
6 Tip onto a clean shallow bowl or baking tray, cover with cling film and place in the fridge to cool down.
7 Once the rice is cold, split it evenly into 12 and roll into balls.
8 Coat the balls in the breadcrumbs and shallow fry in hot oil until golden all over.
9 Serve with a spicy ketchup and sour cream.
---
Feta Stuffed Jalapeños
Serves: 4 | Prep Time: 10 mins | Cooks: 3 mins
METHOD
1 In a bowl add the finely diced shallot, crushed garlic and olive oil. Then add the lemon zest and juice (adding the lemon juice early to the shallots and garlic will soften them and make them less harsh).
2 Crumble the feta into the mix.
3 Finely chop the mint leaves, add to the cheese mix and stir to evenly distribute the ingredients throughout.
4 Slice the jalapeños in half and place on a baking tray. Fill each half with the cheese mix.
5 Drizzle with a little olive oil and place under a hot grill for a few minutes, until they star to caramelise and the cheese browns.
---
Crispy Katsu Bites
Serves: 4 | Prep Time: 15 mins | Cooks: 3 mins
METHOD
1 Pat dry 12 evenly sized long pickled gherkins with kitchen paper.
2 Cut 12 slices of Gruyère cheese the same size and thickness of the gherkin and place them on top.
3 Use 3 bowls and place the flour in one, the beaten eggs and milk in another and the breadcrumbs in the last.
4 Pass each cheesy gherkin through the flour, then egg, then breadcrumbs, then repeat so they are 'double dipped'.
5 Once you have coated all 12, let them sit for a few minutes while your oil heats up and you make the dip. Mix together the dip ingredients and place in a small bowl.
6 Deep fry the breadcrumb covered gherkins in oil for 2 minutes until golden or drizzle with oil and bake in a 250° oven for 4 minutes.
7 Serve piping hot with the dip.