Chorizo and Butternut Squash Hash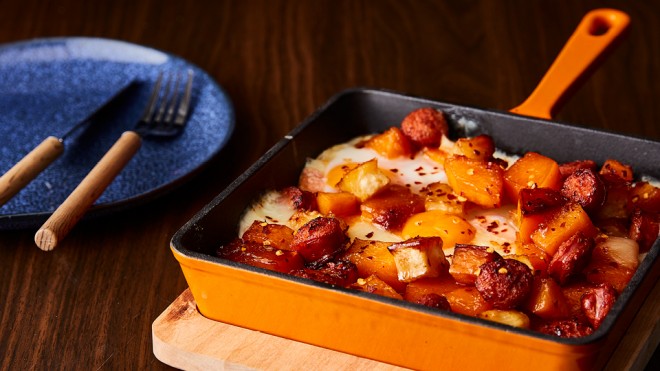 2 servings
40 minutes to cook, 15 minutes to prepare
Ingredients
130g Chorizo sliced
500g Butternut Squash peeled and chopped into cubes
500g Celeriac or Turnips peeled and chopped into cubes
2 tbsp Maple Syrup
2 tbsp Extra Virgin Olive Oil
3 Eggs
150g Taleggio Cheese cubed
Salt and Pepper
Instructions
A delightful chorizo and butternut squash hash, ideal for a midweek supper.
Method
Preheat your oven to 200ºc/160ºf/Gas Mark 4.
Put the squash, celeriac, maple syrup, oil, salt and pepper in a large bowl and toss together until everything is coated in syrup and oil.
Turn out onto a large baking tray, lined with greaseproof paper to prevent sticking.
Place into the oven and cook for 25 minutes but check and turn regularly.
Add the sliced chorizo and cook for a further 10 minutes or until everything is golden brown and crisp.
Turn everything out into a large baking dish or iron skillet.
Crack the eggs on top of the mixture, or you can make small wells if you wish to crack the eggs in to. Dot the cheese all over.
Pop under a preheated grill for 5 minutes or until the eggs are just cooked and the cheese melted.
Sprinkle with pepper and serve.
Chefs Tip 
Make sure there's plenty of room on the baking tray otherwise your vegetables will steam rather than roast.