Argentinian Matembre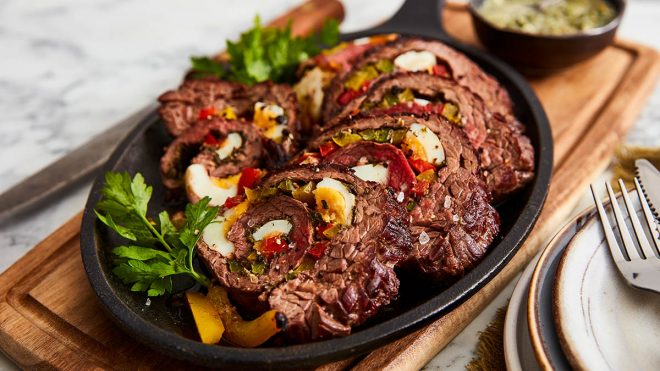 4 servings
30 mins to prepare
Ingredients
1 tbsp olive oil
800g skirt steak
2 boiled eggs, quartered
3 peppers (yellow, red, green), sliced
For the Chimichurri
1 bunch of parsley, chopped
1 bunch coriander, chopped
3 garlic cloves
40ml cider vinegar
1 tsp cumin seeds
1 lime
100ml olive oil
Salt and pepper
Instructions
METHOD:
Pre-heat the oven to 200°C/180°(fan)/gas mark 6.
Butterfly the steak and flatten with a rolling pin between cling film until it is about 1cm thick.
Prepare the chimichurri by placing all the ingredients in a blender and pulse into a chunky paste.
Spread half of the paste onto the surface of the steak.
Leave a 5cm gap at one end then place a row of quartered eggs, then a row of each pepper. Leave another 5cm gap and repeat the process.
Place your last row of ingredients down and start to carefully roll up
the meat from the 5cm gap and hold together with skewers. Brush with oil and season with salt and pepper.
Cook for about 20 minutes for medium rare or longer if you like your meat more cooked. Rest for 10 minutes before you slice.
Serve with the remaining chimichurri.