Lancashire Tortilla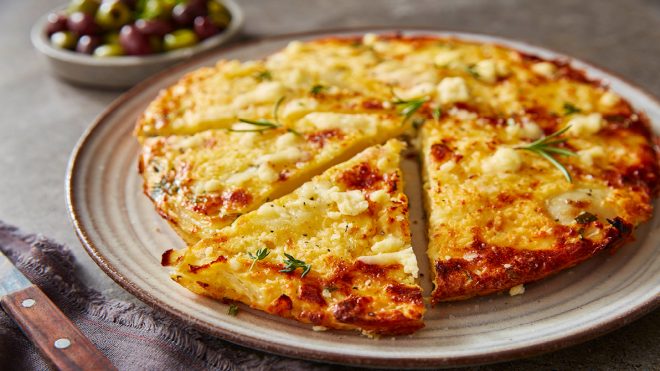 2 servings
50 mins to prepare
Ingredients
4 medium free-range eggs
2 medium onions, finely sliced
2 par-boiled potatoes, cooked but still firm,
50-100g Mrs Kirkhams Lancashire cheese, crumbled or grated
1 crushed clove of garlic
A drop of milk
A knob of butter
Salt and ground black pepper
Fresh herbs
Instructions
METHOD
Gently sauté the onions and garlic in the butter, until soft and golden, but not browned. Then add the par-boiled potatoes to the pan, and mix together with the onions.
Warm through to finish cooking the potatoes.
In a jug, mix together the eggs, black pepper to taste, and a little milk to loosen the mixture. (Do not add salt at this stage as it can make the eggs rubbery.)
Turn the heat up under the pan, add all the egg mixture, then turn the heat down to medium.
Let the edges of the tortilla set, as it does, run the liquid mixture round the edges of the pan. Although the edges of the tortilla will be virtually cooked, there will be pools of partially cooked egg. Use a spatula to gently open the areas, letting the heat rise, and set the egg.
Then add your favourite Lancashire cheese, and let it melt slightly in the heat from the pan.
Fold the tortilla in half, and remove from the heat when it still has a 'wobble', as it will carry on cooking. Sprinkle with a little salt.
You can add flavoured cheeses if you would like more depth of flavour, and you can vary the whole feel of the dish every time you make it by adding herbs to complement, e.g. Tasty Lancashire Cheese and chopped parsley will give a more traditional finish.