Farmer's Market Quiche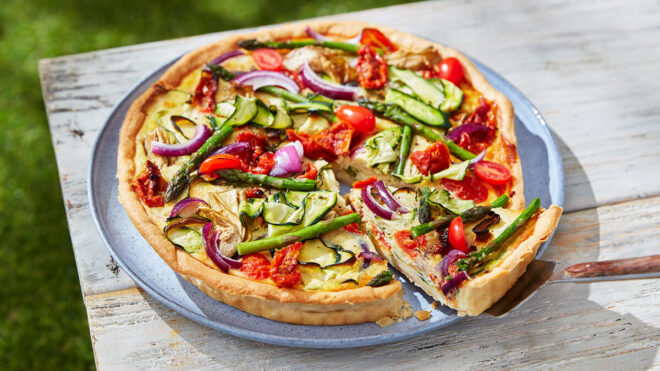 6 servings
15 minutes to prepare
Ingredients
1 pack shortcrust pastry
8 eggs
250ml milk
100g cheese, grated
6 asparagus, diced
8 SunBlush® tomatoes
1 small courgette, ribboned
6 artichoke hearts (from a jar)
100g tomatoes, sliced
1 red onion, diced
Salt and pepper to taste
Instructions
Method
Grease a quiche dish then roll out the pastry and line the dish, trimming off any excess. Place back in the fridge for 30 minutes to chill.
While the pastry is chilling, preheat the oven to 180°C/160°Fan/350°F/Gas Mark 4.
After the pastry has chilled, line it with baking paper weighted down with baking beans or uncooked rice. Bake the pastry case for 10-15 minutes, then remove the baking beans and paper and bake for a further 10-15 minutes until golden.
In a bowl, whisk the eggs, milk and cheese together and pour into the pastry case.
Arrange the vegetables on top and bake in the oven for 35-40 minutes.
Serve with a fresh salad.
Chefs tip:
It's important to place the pastry back in the fridge to chill before baking to stop any shrinkage.