Booths 175th Birthday Celebration Cake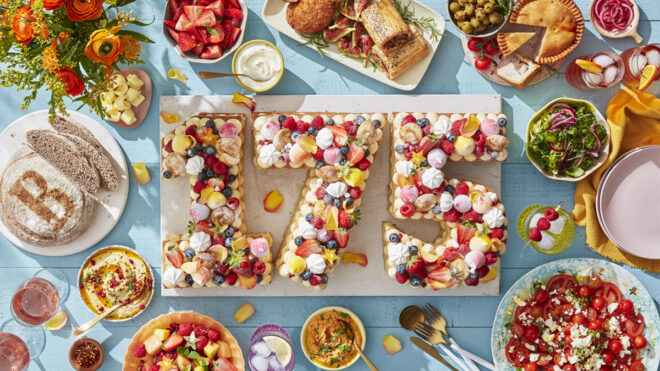 10 servings
1 hour to prepare
Ingredients
For the cake
690g Stork margerine
690g caster sugar
690g self raising flour
12 eggs
2 tbsp vanilla extract
3 lemons, zest only
For the Assam Buttercream
375g salted butter, softened
750g icing sugar
4 tbsp milk
1 Assam tea bag
2 tbsp vanilla extract
Pink food colouring
To decorate
4 tbsp lemon curd
Strawberries
Raspberries
Flowers
Gold Pearls
Instructions
This recipe make enough for one number in a square 30x30x8cm cake tin.
METHOD
For the cake
1. Pre-heat the oven to 160°C (fan)/180°C/350°F/gas mark 4.
2. Line a 30x30x8cm square tin with baking paper.
3. Place the margarine and sugar into the bowl of a stand mixer. Cream together until light and fluffy.
4. Add the eggs and half the flour. Mix again to combine.
5. Add the remaining flour and mix again, scraping down the bowl to ensure evenly mixed.
6. Add the vanilla extract and lemon zest and mix to combine evenly. If you don't have a stand mixer use a hand held mixer or a large bowl and a wooden spoon.
7. Spoon the cake batter into the prepared tin and bake for approximately 1 hour or until a skewer comes out clean when inserted into the middle of the cake.
8. Allow to cool completely before removing from the tin.
9. To create the shape, draw the number on an A4 sized piece of paper, cut out the template and use this on top of the cake as a guide when cutting.
10. Slice the cake in half to create two layers, a top and a bottom.
11. Keep any cake trimmings, these can be frozen and used as trifle sponges or tiramisu bases.
To make the Assam Buttercream
12. Place the softened butter and icing sugar into the bowl of a stand mixer. Mix slowly to combine. Increase the speed and beat to create a smooth buttercream.
13. Warm the milk in a small saucepan or in the microwave. Add the Assam tea bag and steep for 5 minutes. Remove the tea bag and discard.
14. Add the infused milk and vanilla to the buttercream and beat until smooth.
15. Spoon ¾ of the buttercream into a large piping bag fitted with a round ¼ inch nozzle.
To decorate
16. Place one half of the cakes on a cake board. Spread with lemon curd. Pipe round rosettes of buttercream to cover the lemon curd.
17. Carefully place the remaining cake half on top. Pipe the top with round rosettes of buttercream.
18. Decorate with sliced strawberries, raspberries, flowers* and gold pearls.
19. Add a little pink food colouring to the remaining buttercream. Mix well and spoon into a piping bag fitted with a small star nozzle.
20. Pipe small rosettes of buttercream to finish your cake.
*Remove before serving
Chefs Tip – You can make this cake in advance, freeze it and then cut to shape before it defrosts. This will give you a clean shape and prevent the cake from crumbling.
To make a quick pudding using the left over cake crumb, place 250g of frozen berries into an oven proof dish. Crumble over the cake crumb to cover. Bake in a pre-heated oven 180°C (fan)/ 200°C/400°F/gas mark 6 for 15-20 minutes and serve with custard or cream!