Helen's Mum's Butterfly Buns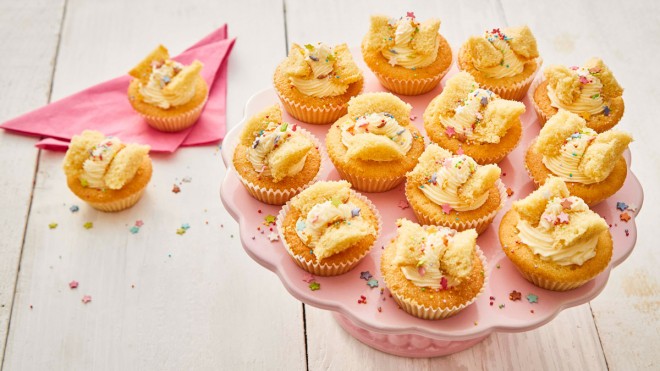 16 servings
30 minutes plus cooling time to prepare
Ingredients
6oz margarine
6oz sugar
6oz self-raising flour
3 eggs
1tsp vanilla extract (or other lavouring of your choice)
For the Buttercream
6oz softened butter
12oz icing sugar
Food colouring / sprinkles / glitter of your choice (optional)
Instructions
One of our colleagues, Helen, has very fond memories of whipping up these buns with her mum on rainy summer afternoons, and we're so pleased she was able to share her recipe with us. It's a classic bake to make with kids, also known as fairy buns.
Method
If you prefer to work in grams, work to 1oz = 25g
Pre heat the oven to 160°c / 325°f / Gas Mark 3, and line a cupcake tin with cupcake cases.
Cream margarine and sugar together until light and fluffy.
Beat in the eggs, one at a time whisking well after each addition. Add the vanilla extract with the last egg.
Sieve the flour, then fold in a bit at a time using a metal spoon.
Fill the cupcake cases until they're ¾ full, then bake for 15 minutes, or until a skewer comes out clean.
Once the cakes are completely cooled, prepare your buttercream by beating your icing sugar and butter together until light and fluffy. We recommend starting off by mixing together with a fork until all the icing sugar is combined with the butter, before getting in there with an electric whisk – this stops clouds of icing sugar going everywhere! You could add food colouring or a little flavouring if you choose at this point.
Scoop out a little circle from the top of each cupcake, then cut the piece you've scooped out in half to make 'wings'.
Filled the hole with buttercream then stick in your wings. Decorate with edible sprinkles and glitters of your choice!
Chef's Tip
An ice cream scoop with an ejector button is perfect for filling cupcake cases with batter. This is a very adaptable recipe, you can invent your own flavour combinations using different extract in place of vanilla. To make these chocolatey, swap 1oz of the flour for 1oz of cocoa powder.