YoYo Biscuits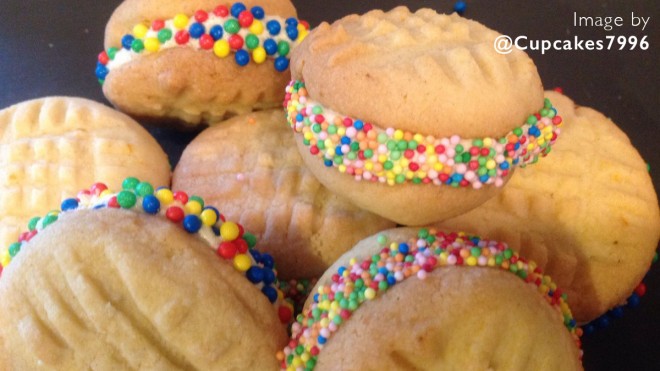 12 servings
18-20 minutes to cook, 20 minutes to prepare
Ingredients
175g butter, softened
75g icing sugar
175g plain flour
50g cornflour
Zest from 1/2 an orange
A little flour for dusting
For the buttercream
75g butter, softened
125g icing sugar
Zest of 1/2 an orange
1 pot of sprinkles of your choice, we used a rainbow tripod with 3 different types in it (find it in the baking aisle)
Instructions
An easy yet colourful sandwich biscuit recipe, make them as decorative as you choose.
Method
Pre-heat the oven to 150°C (fan)/325°F/gas mark 3.
Place the butter and icing sugar into a bowl and beat until pale.
Add the plain flour, cornflour and orange zest. Rub in using your fingertips until the mix resembles breadcrumbs. Work to bring the mix together as a dough.
Line 2 baking trays with baking paper. On a lightly floured work surface roll the dough into a sausage shape. Divide the dough equally into 24 pieces. Roll each piece into a ball. Evenly space the balls on the baking trays and flatten each ball using a fork.
Bake for 18-20 minutes or until just golden around the edges.
Allow to cool before placing onto a cooling rack to cool completely.
Place the butter, icing sugar and orange zest into a bowl. Beat until smooth.
Spoon one teaspoon of buttercream onto the flat side of 12 biscuits. Top with the remaining 12 biscuits to make a sandwich, press together lightly to squeeze the buttercream to the edges.
Dip the buttercream edges of each yoyo into your sprinkle pot to decorate.