Easy Halloween Fudge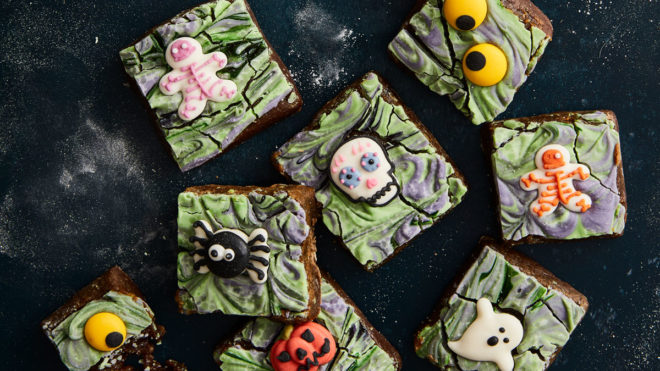 16 servings
25 minutes to prepare
Ingredients
397g condensed milk
150ml whole milk
450g demerara sugar
115g unsalted butter
150g white chocolate
Dash green food colouring
Dash purple food colouring
2 packets Cake Angels Halloween Decorations
Icing sugar to dust
Instructions
Method
Combine the condensed milk, whole milk, demerara sugar and butter in a sturdy pan. Bring to the boil, stirring continuously. Allow to simmer for 15 minutes, or until the mixture reaches 118C on a sugar thermometer.
Transfer the mixture to a 20cm square cake tin lined with baking paper. Leave to set overnight.
Melt the white chocolate in a heatproof bowl suspended over a pan of simmering water. Pour half of the chocolate into a separate bowl.
Stir a little green food colouring into one batch of chocolate and a little purple into the other. Pour both bowls over the fudge and use a toothpick to create a marbled effect. Decorate with the Cake Angels decorations and leave the chocolate to set.
Cut the fudge into squares, dipping the knife into a little icing sugar before each slice to prevent sticking. Store in an airtight container and enjoy within 3 days.
Chefs tip: Add a splash of vanilla, mint or lemon extract to the fudge mixture for a flavourful twist.