Tom's Mum's Light Christmas Pudding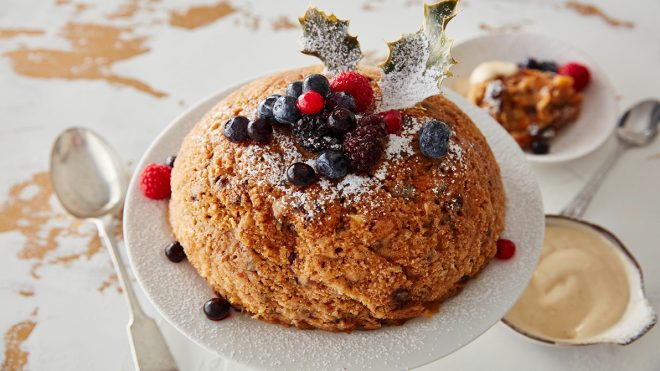 6 servings
3 hours to prepare
Ingredients
for the dry ingredients
110g self-raising flour
110g breadcrumbs
110g suet
85g white granulated sugar
40g mixed candied peel
110g currents
110g raisins
1 Bramley apple, peeled and grated
1 carrot, peeld and grated
1 tsp baking powder
1/2 tsp mixed spice
A pinch of salt
For the wet ingredients
200ml milk
200ml water
75ml brandy
Instructions
METHOD
In a large bowl, mix all the dry ingredients together well.
Mix the wet ingredients together in a jug.
Gradually add the wet ingredients to the dry ingredients, stir to combine.
Line a medium sized pudding basin with tin foil and then greaseproof paper. Make sure the tin foil and greaseproof paper have excess hanging over the edge of the bowl.
Pour the mixture into the lined pudding basin. Seal the greaseproof paper and tin foil over the top by scrunching or folding it all together.
Seal the top of the basin with foil using an elastic band (you want to stop any water getting into the basin).
Steam in a steamer with the water gently simmering for 3 hours.
Once cool, the pudding can be turned out and stored in the fridge for a week, or placed in a preezer bag and stored in the freezer for three months so it can be made ahead.
When reheating (fully defrost by getting out of the freezer the day before and leaving in the fridge) steam for a further 45 minutes. Serve with brandy sauce.
Tom says "My mum makes these every year and the recipe was her Grandmother's, it's very light compared to a traditional Christmas pudding and it always goes down a treat after Christmas dinner at the Hargreaves household."