Tempura Tofu with Warm Grapefruit Tabbouleh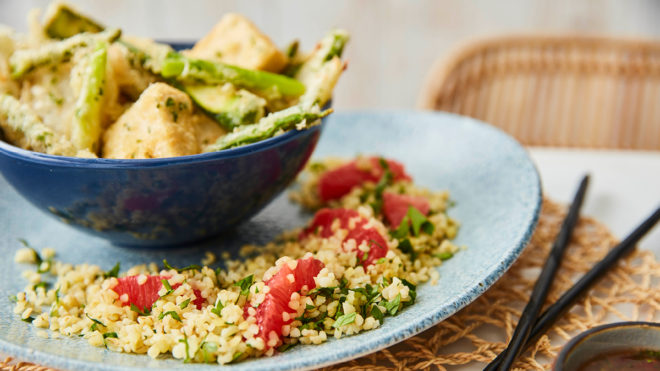 4 servings
40 mins to prepare
Ingredients
For the Tabbouleh
250g bulgur wheat
1/2 vegetable stock cube
2 grapefruits
1/2 grapefruit, juice only
10g flat leaf parsley
10g coriander
For the Sauce
4 tbsp sweet chilli sauce
1/2 grapefruit, juice only
1 tbsp coriander
For the Batter
100g plain flour
1 tbsp cornflour
1 tsp baking powder
1/2 tsp salt
225ml sparkling water
5g corinader
To Fry
1 ltr vegetable oil
For the Tempura
200g firm tofu
4 spring onions, halved
8 asparagus spears
8 sugar snap peas
8 mangetout
1/2 bulb of fennel
4 baby courgettes
500ml sunflower oil
Salt and Pepper
Instructions
METHOD
1 To make the tabbouleh place the bulgur wheat into a bowl. Prepare the stock cube with boiling water and pour over the bulgur wheat to cover by approximately one centimetre. Cover the bowl with cling film and allow to stand for 30 minutes.
2 To make the dipping sauce, roughly chop the coriander then mix all of the ingredients in a bowl and set to one side.
3 To make the tempura batter, place the dry ingredients into a bowl, slowly add the chilled sparkling water whisking continually to avoid lumps. Finely chop the coriander, add to the mixture and mix well.
4 Thinly slice the fennel and halve the baby courgettes lengthwise. Heat the oil in a heavy based saucepan to approximately 180°C. Slice the tofu into 8 pieces then dip the vegetables and tofu into the batter and fry for 2-3 minutes (do this in batches). Remove using a slotted spoon and drain on kitchen roll.
5 To finish the tabbouleh, peel the grapefruits and cut into segments. Finely chop the flat leaf parsley and coriander. Mix these ingredients in with the bulgur wheat and grapefruit juice. Season to taste.
6 Serve the warm tabbouleh with a selection of tempura and the dipping sauce.
CHEF'S TIP This is a great base tempura recipe, add a pinch of chilli flakes to the batter and use king prawns or squid to make this dish for meat eaters.