Red Velvet Pancakes with White Chocolate Sauce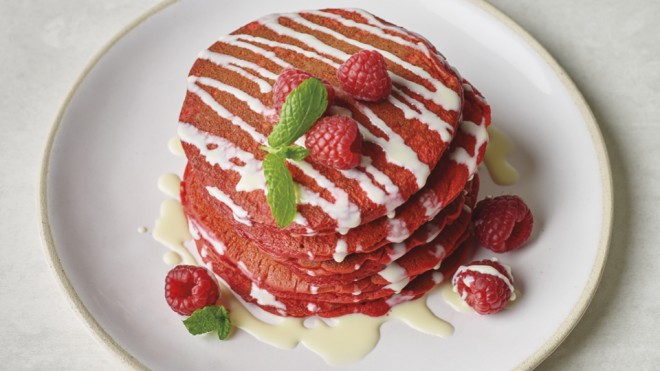 10 servings
25 minutes to prepare
Ingredients
150g plain flour
1/2tsp bicarbonate of soda
1/2tsp baking powder
15g cocoa powder
25g icing sugar
150ml buttermilk
100ml milk
1 large free range egg
25g melted butter
1tsp vanilla extract
1tsp red gel paste food colouring
1tsp vegetable oil
For the sauce
100g white chocolate, broken into pieces
3tbsp double cream
Fresh raspberries to serve
Instructions
1 In a large bowl mix together the flour, bicarbonate of soda, baking powder, cocoa powder and icing sugar.
2 In a jug mix the milk, egg, buttermilk, melted butter, vanilla and red food colouring. Add this mixture to the dry ingredients and mix well until you have a smooth, thick batter.
3 Heat a heavy based non-stick frying pan rubbed with a little vegetable oil and drop a large heaped tablespoon of the mixture into the pan. Cook over a medium heat until bubbles start to form and the pancake starts to puff up, this will take about 1 minute. Flip over and cook on the other side for a further minute. Keep warm in the oven on a low heat whilst you cook the rest of the pancakes, layering up between sheets of baking paper.  The mixture should make 8–10 pancakes.
4 For the sauce place the white chocolate and cream into a microwave proof bowl and heat for 1 minute until fully melted and of pouring consistency.
5 Layer 2–3 pancakes per person and serve drizzled with the white chocolate sauce. We love to add fresh raspberries on the side.