Halloween Spooky Spiced Biscuits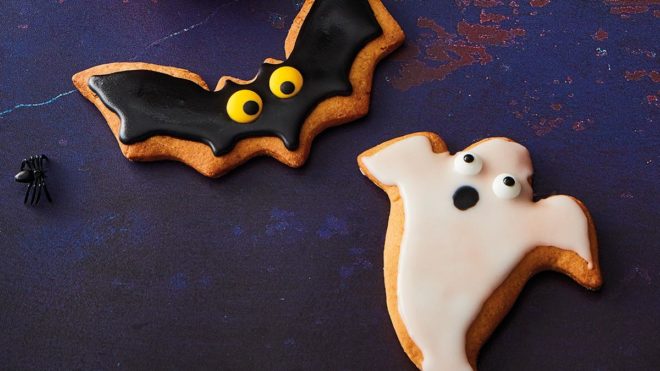 Ingredients
175g unsalted butter at room temperature
100g caster sugar
100g soft brown sugar
3 medium eggs
1 tsp vanilla extract
400g plain flower
1 tsp ground cinnamon
2 tsp ground ginger
1 tsp baking flower
1 tsp salt
Decoration Ingredients
200g icing sugar
1-2 tsp water
Gel Food Colouring
Spooky Eyes
Instructions
METHOD:
1 Cream the butter and sugar using a whisk until light and fluffy, add the eggs one by one and then mix in the vanilla.
2 In another bowl add the rest of the ingredients. Slowly add the dry ingredients to the butter, sugar and eggs mixture. Mix together until you have a soft dough. If dough is too sticky add a little more flour.
3 Wrap the dough in cling film and chill for an hour.
4 Pre heat the oven 180ºC/160°C Fan/gas mark 4/350ºF. Sprinkle kitchen surface lightly with flour, half the dough and dust with a little flour. Roll out the dough until it is 1/2 cm thick. Cut into spooky shapes and place on a greaseproof lined baking tray .
5 Bake for 8-10 minutes or until golden brown. Transfer on to a cooling rack, repeat with the rest of the dough.
6 When cooled it is time to decorate. Add icing sugar to a bowl, using a fork mix in the water until you have a thick paste. Using the food colourings add until desired colour is achieved. Remake or split icing paste before colouring if you want to make more colours.
7 Decorate your biscuits as you wish and give them some spooky eyes.
Chef's Tip
Don't over mix your biscuit dough and be sure to chill and rest the dough for at least
1hr before you start making. Doing this will ensure you have a snappier biscuit with some
crunch.