4 Foolproof Sauces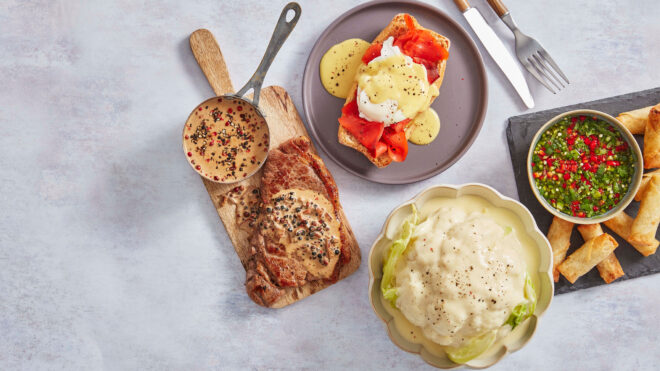 3 servings
5 minutes to prepare
Ingredients
Peppercorn Sauce:
2-3tbsp mixed peppercorns
60g butter
1 shallot, minced
100ml brandy
100ml beef stock
60ml double cream
Hollandaise Sauce:
125g butter
2 egg yolks
1/2 tsp white wine vinegar
squeeze of lemon juice
Cheese Sauce:
30g butter
30g plain flour
500ml milk
100g mature cheddar
Salt and pepper
Thai Dipping Sauce:
1/4 cup of fresh lime juice
2 1/2 tbsp sugar
2tbsp fish sauce
1 1/2 tsp rice vinegar
1 1/2 tsp fresh coriander, coarsely chopped
1tsp minced garlic
1 green chilli, finely chopped
1 red chilli, finely chopped
Instructions
Peppercorn Sauce
Method
Crush the peppercorns slightly, either using a mortar and pestle or a rolling pin.
Melt the butter in a saucepan over medium-high heat. Add the shallot and peppercorns and cook until soft.
Add the brandy and boil for another couple of minutes. Add the beef stock and boil for a further 1-2 minutes.
Finally, add the cream and reduce the heat to medium. Heat through, but don't allow the peppercorn sauce to boil.
Once the sauce is at your desired thickness, test for seasoning. Add salt, if necessary, then serve with your favourite steak.
Chefs Tip:
It may seem like a lot of pepper, but it does cook out so you can always add a little more.
Hollandaise Sauce
Method
Melt the butter in a saucepan and keep the butter warm.
Put the egg yolks, white wine vinegar, a pinch of salt and a splash of ice-cold water in a bowl over a small pan of barely simmering water and whisk continuously for 3-5 minutes until pale and thick.
Remove from the heat and slowly whisk in the melted butter bit by bit until it's all incorporated and you have a creamy hollandaise. (If it gets too thick, add a splash of water.)
Season with a squeeze of lemon juice and keep warm until needed.
Chefs tip:
Keep an ice cube handy for when whisking the egg yolks. If you notice them starting to split put the ice cube in this should rescue the yolks.
Cheese Sauce
Method
Melt the butter in a saucepan.
Stir in the flour and cook for 1–2 minutes.
Gradually, stir in the milk. Ensure that the milk is completely absorbed, and the sauce is smooth and shiny before each addition of more milk. This will help ensure you get a smooth sauce with no lumps. Once all the milk is added, keep stirring, and bring the sauce to a gentle boil.
Reduce the heat and simmer gently for 5 minutes. Season with salt and pepper.
Stir in the cheese and allow it to melt. Don't re-boil the sauce or it will become stringy.
Chefs tip
Try adding chipotle chilli flakes for a smokey flavour with a gentle kick of spice.
Thai Dipping Sauce
Method
Combine all the ingredients in a small bowl and stir until the sugar is dissolved. Let the sauce stand for at least 30 minutes before serving to let the flavours develop and blend.
Chefs tip:
Using Birds Eye chilli will make this even hotter if you really like spice.