Canadian Nanaimo Bars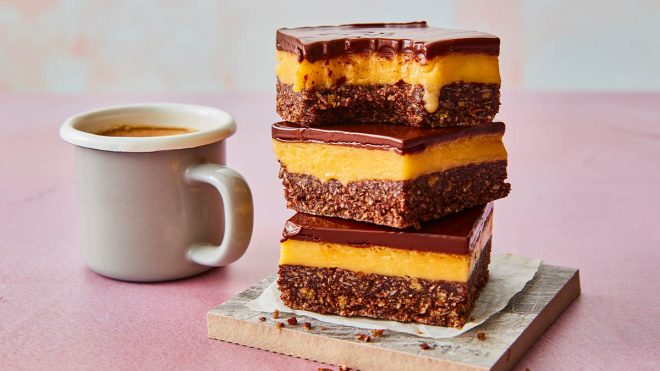 4 servings
2.5 hours to prepare
Ingredients
For the biscuit layer
125g butter
40g caster sugar
4 tbsp cocoa powder
1 large egg, beaten
100g desiccated coconut
200g crumbled Hobnob biscuits
For the custard layer
100g butter, at room temperature
100ml double cream
3 tbsp custard powder
250g icing sugar
For the chocolate layer
150g dark chocolate
50g butter
Instructions
METHOD:
For the biscuit layer, melt the butter in a glass bowl, over a pan of simmering water. Do not let the simmering water touch the bottom of the bowl.
Add the caster sugar and cocoa powder and whisk until smooth.
Add the beaten egg and whisk for 2-3 minutes until the mixture has thickened, (this will cook the egg).
Remove from heat and add the desiccated coconut and crumbled Hobnobs and mix well.
Press evenly into a lined, small square baking tin and chill in the fridge whilst you're making the custard layer.
For the custard layer, whisk the soft butter, double cream and custard powder until light and fluffy, then slowly add all the icing sugar until fully mixed.
Spread the custard mix over the biscuit layer and chill in the fridge for 1 hour.
For the chocolate layer, melt the chocolate and butter together in a bowl over simmering water. Give it a little whisk until it is smooth and fully melted.
Pour the melted chocolate over the custard layer and chill for 1 hour.
Once set, remove from the tin and cut into squares.
CHEF'S TIP You can add some chopped nuts in the biscuit layer. Why not try chopped hazelnuts.