Rich Chocolate Mousse Torte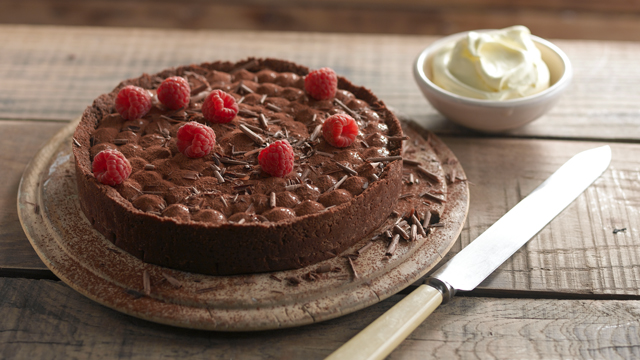 7 servings
270 minutes to prepare
Ingredients
Main Ingredients
150g dark chocolate 70% cocoa solids minimum
3 large eggs, separated plus one yolk
1tsp vanilla extract
4-5tbsp amaretto or the liquor of your choice
3tbsp golden caster sugar
1tsp good instant coffee dissolved with 4tbsp of hot water
For the biscuit base
50g dark chocolate
1tbsp cocoa powder
50g butter
200g digestive biscuits
Instructions
You will need a 20cm loose-bottomed cake tin, lightly greased and lined with
baking parchment.
The first thing you need to do is make the biscuit base by popping the chocolate, cocoa and butter into a bowl over a small saucepan of barely simmering water.
When the chocolate has melted, stir until smooth. Crush the biscuits until you have a fine crumb and mix into the chocolate. Tip the mixture into the prepared cake tin and using the back of a spoon, press the mixture evenly over the base of the tin and about 4cm up the sides. Place in the fridge to set whilst you make the filling.
For the filling place the instant coffee and chocolate into a heatproof bowl set over a saucepan of barely simmering water, once melted remove and stir until smooth and cool.
In a bowl whisk the four egg yolks with the vanilla, then stir in to the cooled chocolate and amaretto, mix until smooth. In a clean bowl whisk the egg whites until white and fluffy, then gradually sprinkle in the sugar whisking as you do so. You will end up with a soft glossy meringue. Gently fold the egg whites into the chocolate mixture in 3 batches to create a mousse. Spoon the mousse into the biscuit base lightly smoothing the top, chill for at least 4 hours or ideally overnight.
Serve with a little dusting of cocoa powder and Booths everyday fresh raspberries.