Nutty Fridge Cake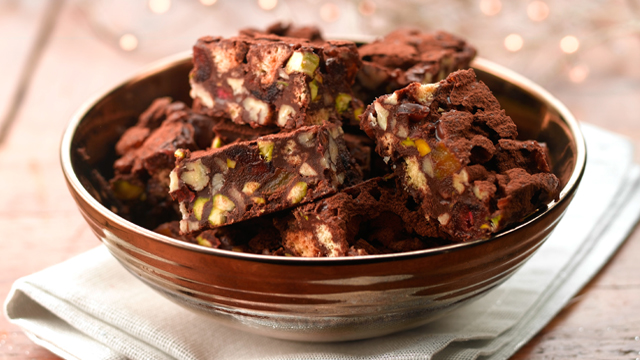 7 servings
20 minutes to prepare
Ingredients
200g cantucci biscuits
100g pecan nuts, rougly chopped
100g pistachio nuts, roughly chopped
15g dried apricots, roughly chopped
15g glacé cherries, roughly chopped
150g unsalted butter
1tbsp golden syrup
200g dark chocolate
Cocoa powder for dusting
Instructions
Break the contucci biscuits into small pieces and place into a large mixing bowl along with the chopped nuts and dried fruits and mix well. Then, place the butter, chocolate and golden syrup into a heat-proof bowl and melt over a pan of simmering water
Pour the chocolate into the biscuit mixture and mix well, then spoon into the prepared loaf tin, making sure to press the mixture down firmly. Fold over the overhanging cling film and pop into the fridge for a couple of hours until set.
Turn out easily by unwrapping the cling film and gently pull to release the cake, dust with cocoa powder before serving.
Keep the cake in the fridge for up to one week.