Black Forest Tart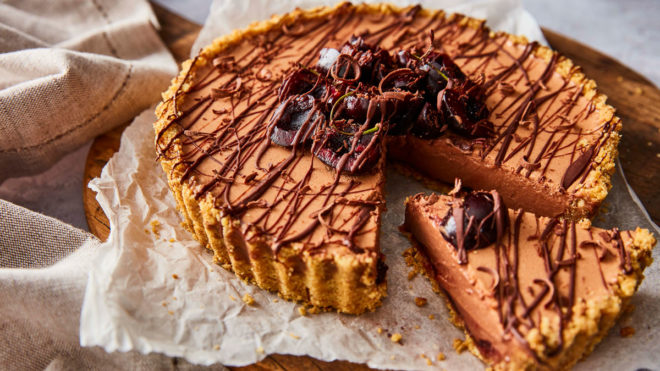 8 servings
30 minutes plus overnight to prepare
Ingredients
For the base
200g digestives, crushed
100g unsalted butter
For the filling
200g 75% dark chocolate
2tbsp cherry brandy (optional)
4tbsp milk
200g marshmallows
600ml double cream
5tbsp cherry jam
To decorate
100g black cherries, chopped
50g dark chocolate, melted
Instructions
All of the flavours of black forest dessert in an easy tart! Feel free to leave out the brandy if you prefer an alcohol-free dessert.
Method
To make the base, gently heat the butter until melted and stir in the crushed biscuits. Press the biscuit mixture into the base and sides of a 20cm loose based tart tin. Refrigerate for one hour.
Remove the base from the fridge and spread the cherry jam over the top. Chill for a further 30 minutes.
Melt the dark chocolate in short blasts in a microwave. Stir in the cherry brandy.
Heat the marshmallows and milk in a saucepan, stirring continuously. Whisk in the chocolate and brandy mixture.
Whip the double cream until soft peaks form. Stir the cream into the chocolate and marshmallow mix and pour it into the biscuit base. Refrigerate overnight.
Top the tart with chopped cherries and drizzle with melted chocolate. Enjoy within two days.
Chefs tip: Try replacing the digestives with amaretti biscuits for a cherry bakewell twist.