Clemengold®, Chocolate & Pecan Baked Oats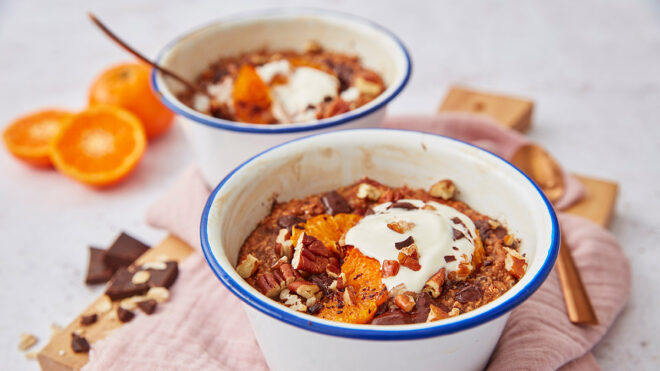 2 servings
10 mins to prepare
Ingredients
Baked Oats Base
80g rolled oats
1 tsp cocoa powder
2 free range eggs
1 tsp baking powder
1 tbsp maple syrup
1 Clemengold®, juice and zest
1 banana
Garnish
Dark chocolate chunks
Pecans, chopped
1 Clemengold®, peeled and segmented
To serve
Greek yoghurt
Instructions
METHOD
Preheat the oven to 180°C / 160°C fan / gas mark 4.
Pulse the baked oats ingredients in a food processor for a few seconds but don't over pulse to keep some texture.
Butter two small oven proof dishes, then pour an even amount of mixture into each dish.
Top with a few chunks of chocolate, a sprinkle of chopped pecans and a slice or two of Clemengold®. Bake for 10/12 minutes – don't over bake to allow for a soft centre.
Serve hot with a spoonful of Greek yoghurt.
CHEF'S TIP
Allow the baked oats to cool, serve sliced with a spread of butter and marmalade with a brew for a mid-morning snack.