Clementine Cakes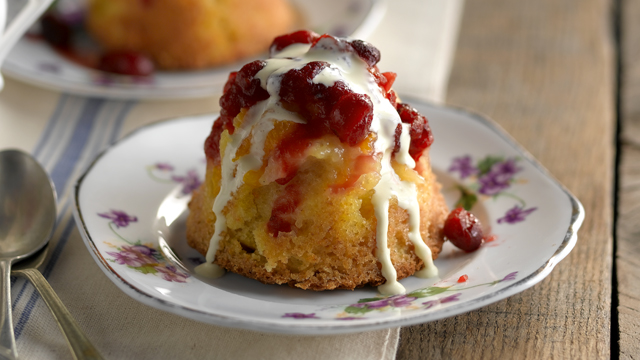 7 servings
55 minutes to prepare
Ingredients
125g unsalted butter, at room temperature
6 clementines, peeled and segmented
175g caster sugar
1tbsp water
2 large eggs
125g self-raising flour, sifted
1tsp vanilla extract
Finely grated zest of 1 orange
2tbsp orange juice
For the cranberry sauce
250g cranberries (thawed if frozen)
150g caster sugar
Juice of 3 clementines
Instructions
Pre-heat the oven to 180°c / gas 4. Take 6 ramekins and lightly grease with butter then heat a frying pan over a high heat.
In a bowl toss together the clementine segments with 50g of the caster sugar, pop the clementine segments into the hot pan along with the water and cook for 30 seconds. Spoon the segments into the ramekins and leave to cool.
Tip – You can cook the clementine segments the night before, once cooled cover the ramekins with cling film and store in the fridge.
To make the sponge, cream the butter and the last of the caster sugar together until pale and fluffy. Whisk the eggs together and add to the butter a little at a time, with every addition add ½ tsp of the flour. Now fold in the vanilla, orange zest and juice. Lastly fold in the remaining flour in two batches. Spoon the batter into the ramekins filing two thirds of the way up. Place onto a tray
and bake for about 20 minutes until risen and light and golden.
Whilst the cakes are cooking, make your sauce quite simply by putting the cranberries, caster sugar and clementine juice into a saucepan, cook for about 10 minutes over a medium heat, stirring every so often.
Tip – Your cranberry sauce can be made the night before, once cooled store in the fridge in a covered container. When ready to serve reheat in the microwave.
Once the cakes are cooked allow them to cool for a few minutes before turning out onto your serving plates. Be careful as they may need a little encouragement. Serve with the cranberry sauce and a drizzle of cream.
Tip – The cakes will last for a couple of days when stored in an air tight container, heat in the microwave for 10 seconds before serving.