Winter Spiced Roast Chicken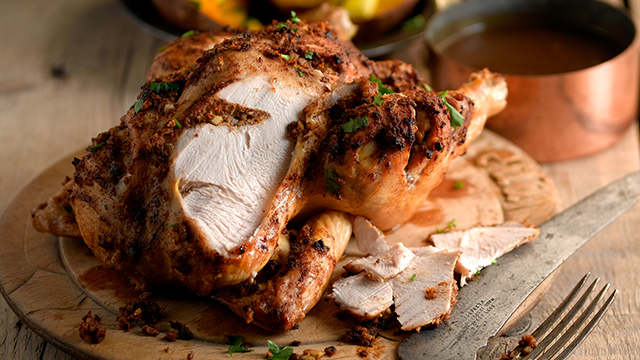 4 servings
90 minutes to prepare
Ingredients
1 medium chicken
1tbsp olive oil
Zest and juice of 2 clementines
1tsp cinnamon
3cm piece of fresh ginger, grated
3 garlic cloves, crushed
1/2tsp salt
Plenty of fresh milled pepper
4-6 sweet potatoes
2tsp plain flour
400ml chicken stock
Instructions
Take your chicken and wash inside and out then pat dry with kitchen roll.
In a small bowl mix the olive oil, ginger, cinnamon, garlic, clementine zest, salt and pepper.
Make some cuts into the skin of the chicken and rub the marinade all over making sure to get some of the marinade into the cuts for maximum flavour, leave to marinade.
Tip – it is best to leave the chicken to marinade for as long as possible, ideally marinade the chicken the night before you wish to cook.
When you're ready to cook your chicken preheat the oven to 200°c / gas 6.
Place the chicken onto a wire rack then into a roasting tray. With the point of a sharp knife pierce the sweet potatoes a few times and place them around the chicken. Pop the tray into the oven and cook for about an hour and fifteen minutes.
When ready place onto a warm serving plate. Make sure your chicken is cooked by checking the juices run clear from the thickest
part of the breast and that the sweet potato jackets are cooked by inserting a knife. If it goes in easily they are ready.
Pour the juices from the chicken tray into a small saucepan over a low heat. Add the flour and stir. Slowly pour in the chicken stock whisking as you do so. Leave the gravy to simmer for 5 minutes.
To serve take a sweet potato jacket cut it open and add some butter, slice the chicken and serve with the gravy and your favourite vegetables.