Warm Chicken Salad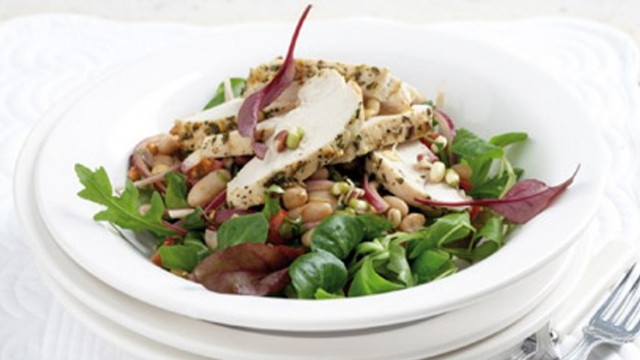 2 servings
30 minutes to prepare
Ingredients
2 chicken breasts
1tbsp fresh thyme
1 garlic clove, crushed
1tbsp olive oil
Sea salt and pepper
For the Salad
400g tin of cannellini beans, drained
1/2 red onion, thinly sliced
100g fresh mixed sprouts
5 cherry tomatoes, halved
1 garlic clove, crushed
2tbsp extra virgin olive oil
1tbsp parsley, chopped
5 basil leaves, torn
2-3 handfuls mixed leaves
Instructions
Pre-heat the grill on a medium to high temperature.
Mix the thyme, olive oil and garlic in a bowl. Next, toss the chicken breasts in the mixture, then season with a little salt and pepper before popping under the grill. Cook the chicken breasts for 6 minutes each side.
Meanwhile, to make the salad, add the cannellini beans, red onion, mixed sprouts and tomatoes into a bowl. Lightly whisk the extra virgin olive oil and garlic, pour over the salad and mix well.
Add the parsley, basil and mixed leaves and toss.
When the chicken is ready, let it rest for 2 minutes slice and serve over the salad and enjoy.