Pomegranate and Clementine Pavlova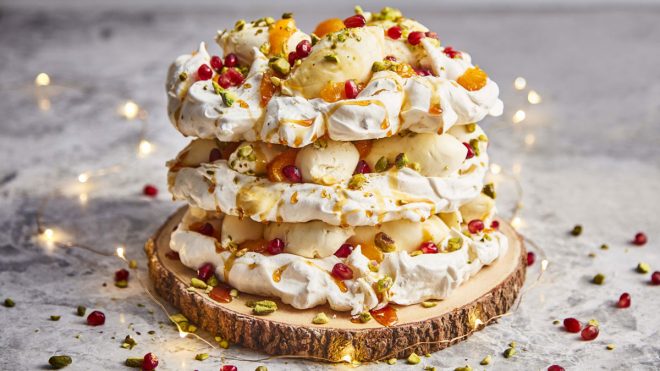 8 servings
3 hours to prepare
Ingredients
For the Syrup
10 clementines
100g sugar
100ml spiced rum
1tsp coriander seeds
For the Meringue
200g egg whites from 6 large eggs
250g sugar
Small bag of unsalted pistachios
To Garnish
120g pomegranate seeds to garnish
550ml cream
65g sugar
Instructions
A festive pavlova with a citrus twist which makes for a sensational dessert that your guests won't be able to resist.
Method
For the Clementine Syrup
Zest, peel and segment nine clementines. Squeeze the juice out of the last clementine and save for step two. Bring 100g sugar to a light caramel, add the rum and cook off the alcohol.
Add the juice and zest from the clementines and the coriander seeds then reduce down to a thick syrup. Place the clementine segments in a Kilner jar (or something similar) and pour over the warm syrup. Once cooled place in the fridge. This can be done a day or two in advance.
For the Meringue
Use a food processor or hand chop all of the pistachios, they don't need to be all the same size. Separate out 50g for the meringue and keep the rest for garnishing.
On three sheets of baking paper trace around a cake tin (we used an 8 inch tin). Line three baking trays with the paper so that the trace is on the underside of the paper. Whisk the egg whites slowly for two minutes then at high speed until they start to form soft peaks. Add the sugar slowly, a tablespoon at a time. Continue to whisk until the whites feel smooth when rubbed between fingers. Gently fold in the pistachios.
Use a little of the meringue to stick the paper to the trays. Spread the meringue evenly over the three trays. Make two of them fairly flat on top but with the third make some peaks and interesting shapes as this will be the lid.
Bake at 90C fan / 110C / ¼ gas for 2 hours or until the meringue starts to set and is easy to lift off the paper. Once cooked, turn off the heat and allow to cool in the oven with the door closed, this helps prevent the meringue from cracking.
To Build the Final Pavlova
Remove the clementine segments from the syrup before using and place to one side.
Whip the cream with the sugar and clementine syrup until it forms stiff peaks.
Build up the pavlova in layers, adding the cream, pomegranate, clementine segments and pistachios between each layer.