Flatbread 'Pizza' with Houmous, Squash and Kale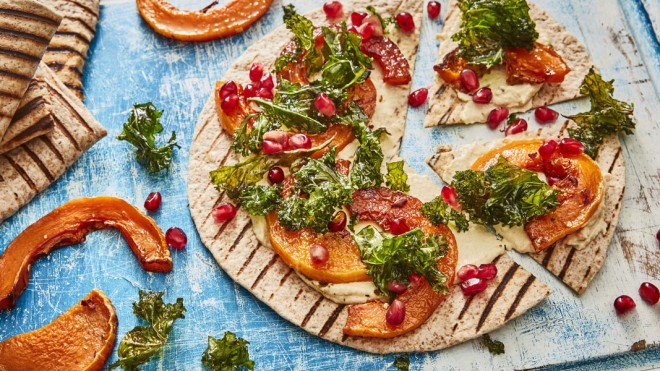 4 servings
40 minutes to prepare
Ingredients
400g chickpeas, drained & rinsed
2tbsp natural yoghurt
2 garlic cloves
1/2tsp salt
1tbsp Tahini
1/2 lemon, juice only
For the Topping
1/2 butternut squash, peeled, de-seeded & sliced lengthways
A drizzle of olive oil
1/2tsp chilli flakes
Salt & pepper
75g kale, shredded
To assemble
1 large flatbread
2tbsp pomegranate seeds
Instructions
This 'pizza' has a delightfully Moroccan feel and is much healthier for you than a traditional deep dish!
Pre heat the oven to 180°C (fan)/400°F/gas mark 6.
Slice the butternut squash widthways into semi circles approximately ½ centimetre thick. Place on a baking tray and drizzle with olive oil. Scatter over the chilli flakes and season with salt and pepper. Roast in the pre-heated oven for 15 minutes.
Meanwhile, to make the houmous, place all of the ingredients into a food processor and blitz to combine, scraping down the bowl halfway through. Set to one side.
After the butternut squash has roasted for 15 minutes, toss the kale in a drizzle of oil, season and add to the oven tray with the butternut squash. Roast for a further 15 minutes or until the kale has started to crisp.
To serve, warm the flatbread in a griddle pan. Spread with a couple of spoonfuls of houmous and top with the roasted squash and kale.
Garnish with the pomegranate seeds, slice into wedges to serve.
Chefs Tip
Alternate your toppings on the easy mid-week recipe. Courgette, aubergine or red pepper slices all work well. If you are short of time use store bought houmous.