The Boho Baker's Creamy Butternut Squash Soup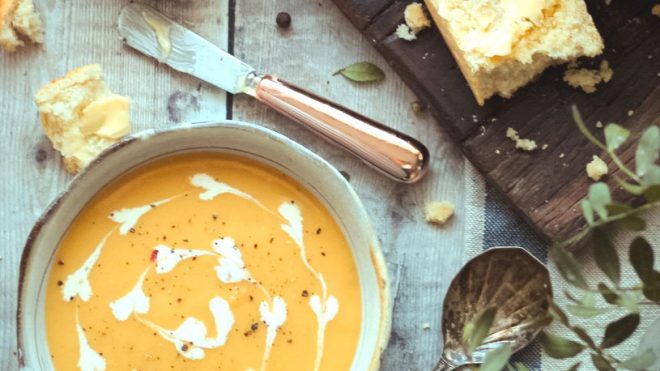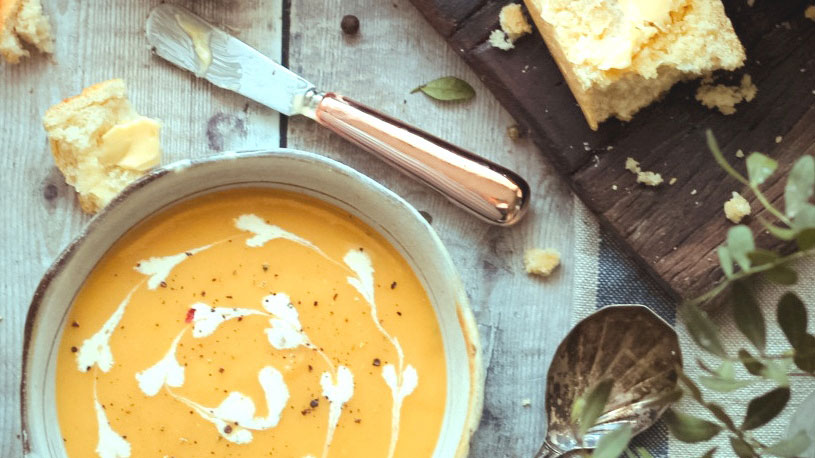 4 servings
1 hour to prepare
Ingredients
1 large butternut squash, halved and deseeded
1 shallot, finely chopped
1 tbsp olive oil
1 tsp salt
4 garlic cloves, minced
1 tsp maple syrup
Pinch of nutmeg
1 ltr vegetable stock
4 tbsp Crème fraîche, to serve
Salt and pepper to serve
Instructions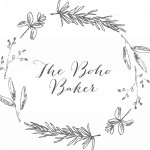 The Boho Baker describes herself as "Baker. Writer. Forager. Wanderer. Organic ingredient and edible floral Enthusiast. Member of the Guild of Food Writers." Very local to our HQ in Preston, she's kindly agreed to do a series of recipes for us, celebrating the best of our local produce. Follow her on Instagram @thebohobaker
METHOD
Preheat the oven to 220°C/200°C/gas mark 7. Drizzle the butternut halves with olive oil and sprinkle with salt. Set the butternut squash face down on a tray lined with a baking paper and roast in the oven for 50 minutes.
Warm 1 tbsp of olive oil in a large pan. Sauté the shallot until golden before adding the garlic and cooking for an extra minute. Remove the pan from the heat.
Scoop the flesh from the squash and transfer it to your blender. Add the shallots, garlic, maple syrup, nutmeg and vegetable stock. Season generously with black pepper and blend until smooth and creamy.
Ladle the soup into four bowls and top each one with a spoonful of crème fraîche. For a decorative effect, add the crème fraîche in drops before pulling a skewer through the soup to create a pretty pattern. Season and serve with crusty bread.