Easy Breadsticks with Black Garlic Dip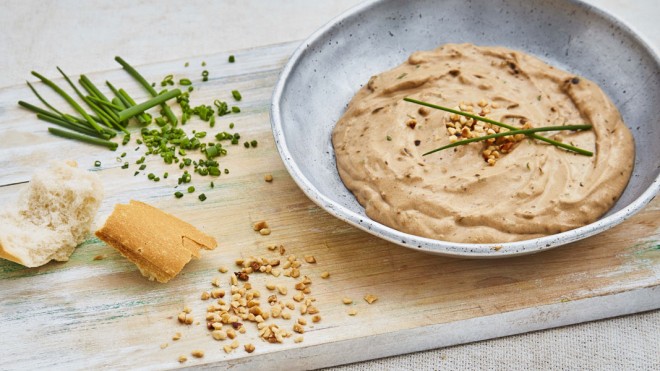 12 servings
45 minutes to prepare
Ingredients
For the Breadsticks
250g strong white bread flour
1/2tsp salt
4g dried fast action yeast
2tbsp olive oil
2tbsp semolina
1tbsp milk
1tsp poppy seeds
1tsp sesame seeds
1tsp nigella seeds
1tsp sea salt
1tsp caraway seeds
For the Black Garlic Dip
1 bulb black garlic
150g soft cheese (like Philadelphia)
100g creme fraiche
1tbsp chives, chopped
2tbsp lemon juice
Instructions
If you've not tried it, black garlic makes an excellent choice for dips – no cooking required as the smoking process gives it a sweeter flavour. Homemade breadsticks are really easy to make and just add that little extra to your party table.
For The Breadsticks
Pre-heat the oven to 200°C (fan)/425°F/gas mark 7.
Place the flour and salt into a bowl and mix to combine.
Pour 150ml of tepid water into a small bowl and add the yeast. Stir until the yeast has dissolved.
Make a well in the dry mix and pour in the yeast mix and olive oil. Stir using a fork to form a dough before bringing together with your hands.
Tip the dough onto a work surface and knead for 5 minutes.
Place the dough into a clean bowl and cover with cling film. Allow to prove for 25 minutes at room temperature.
After 25 minutes, knead the dough for 1 minute. Roll the dough into a sausage shape approximately 30 cm long and cut into 12 pieces. Roll each piece into a bread stick approximately 20cm long.
Scatter a baking tray with semolina and place the breadsticks onto the tray allowing enough room for the breadsticks to expand. You may need to use 2 baking trays.
Brush each breadstick with a little milk and scatter over seeds and salt of your choice.
Bake for 15-20 minutes in the pre-heated oven until golden brown.
Remove from the oven, leave to stand for 5 minutes before transferring onto a cooling rack.
For the Garlic Dip
To make the dip, remove the outer skins from the black garlic cloves. Place all of the ingredients into a food processor. Blitz to combine scraping down the bowl half way through.
Check for seasoning and spoon into a serving bowl. Garnish with chopped hazelnuts and chopped chives and serve with the breadsticks.
Chef's Tip
If you are short of time, make these breadsticks with a bread mix found on the baking aisle. These can be baked and frozen ready to warm in the oven, perfect for a pre-dinner snack.