Butternut Squash & Smoked Bacon Soup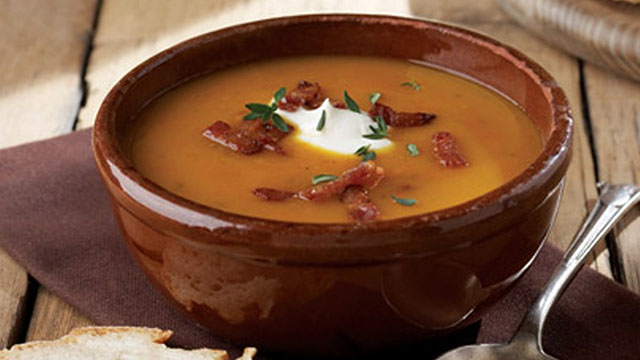 4 servings
50 minutes to prepare
Ingredients
1 medium butternut squash, about 750g
1 large onion, finely chopped
2 garlic cloves, sliced
200g smoked streaky bacon, chopped
2tbsp Booths extra virgin olive oil
1 red chilli, de-seeded and chopped
1ltr hot chicken or vegetable stock
1tbsp fresh thyme
4tbsp Greek yoghurt
Instructions
Peel the butternut squash, slice in half, remove the seeds and chop the butternut into smallish chunks.
Heat 1tbsp of the olive oil in a large pan, add the bacon and cook for 5 minutes until lightly crisp. Then remove from the pan and leave to one side.
In the same pan, add the last tbsp of the olive oil and fry the onion over a low heat for 4-5 minutes until soft. Then add the garlic, chilli (if required), thyme and butternut squash and cook for a further 2-3 minutes.
Pour in the hot stock and simmer for about 15-20 minutes until the butternut squash is soft.
Blend the soup until smooth return to the pan and add ¾'s of the bacon bits and season with salt and milled pepper.
Serve with a dollop of Greek yoghurt and the remaining bacon bits.
TIP: FOR HALLOWEEN, WHY NOT USE PUMPKIN.